5 marketing growth strategies moving the needle for founders right now
Steph Jouppien
November 12, 2021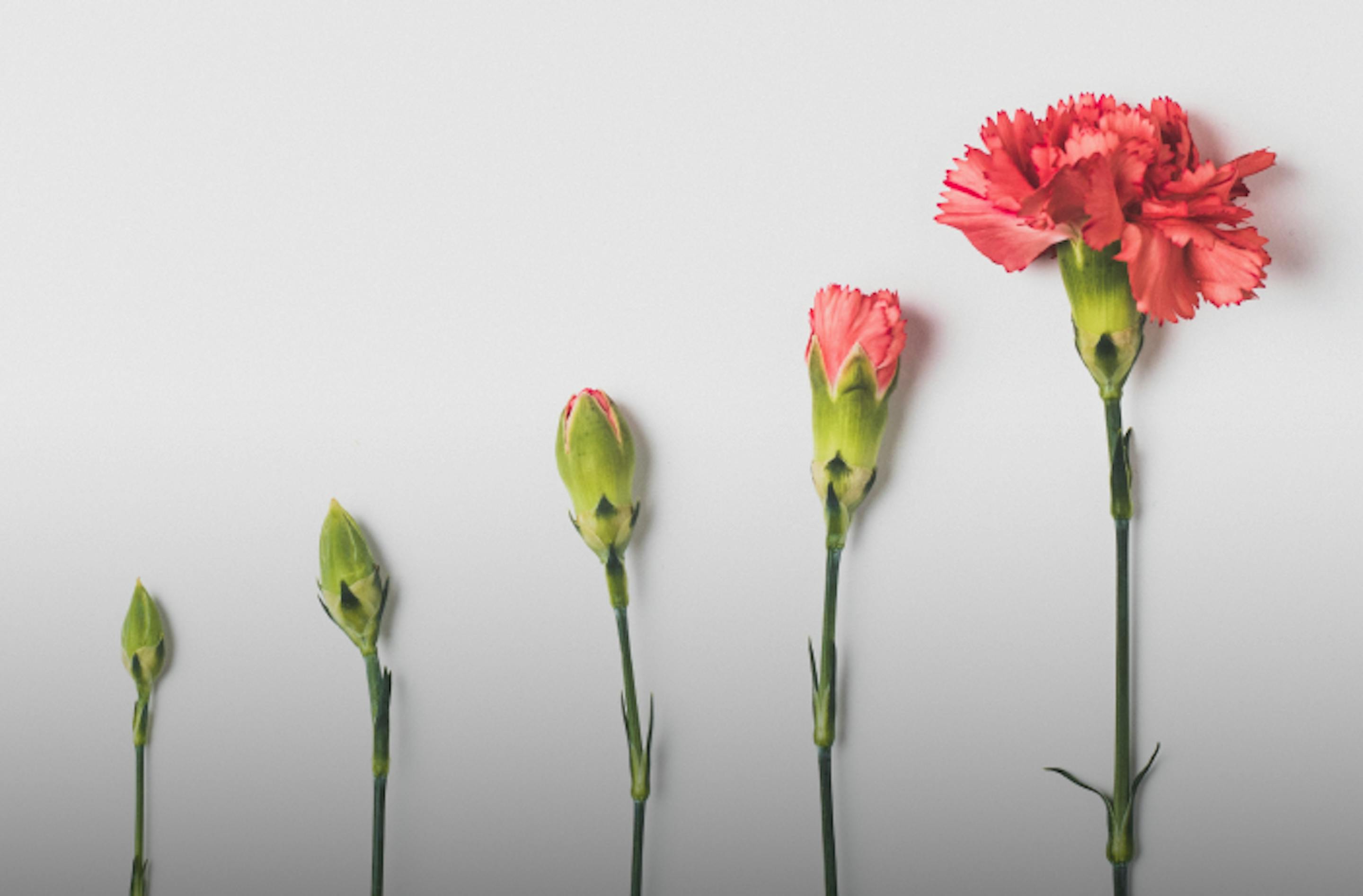 Marketing moves fast. You hear your founder friends recommend TikTok, email marketing, and all kinds of complicated sales funnels, but when you go to execute, it often feels like taking shots in the dark. What marketing strategy really works best? With the world more digital than ever before, and a crowded e-commerce space, what actually moves the needle seems to change week by week. For founders, nailing down the right marketing strategies has become harder than ever.

As soon as you get to building your email list, the next big thing is SMS…
When you finally get your Facebook pixel set up for ads, TikTok ads start converting higher…

For most of us, it feels like we're on a hamster wheel, chasing growth and conversions without ever really catching up. At the end of the day, you can only do your best to keep pace. Here are five marketing growth strategies that are moving the needle for e-commerce founders right now.
1. Referral programs 
Since the term was coined in the 1970's, word of mouth marketing (WOMM) has been the most effective form of selling products. According to Nielsen, 92% of people trust recommendations from friends and family over any other type of advertising. If executed strategically, referrals are a more actionable and trackable form of WOMM. Every founder has come across a situation where they need a piece of software to solve a business problem. It's no wonder they go straight to their founder friends to source a software recommendation.
Programs can go one step further than WOMM by giving extra incentive to take action on a referral request from a company. By offering a reward to your existing buyers for a referral, you are more likely to be discovered by your right-fit customers, grow your client base, and delight and engage those connected to your brand. Customers brought in through referral programs tend to be much more loyal to your brand in the long-term. According to Extole, referred prospects convert at a 3-5X higher rate than average customers and are then 4X more likely to share a referral themselves. This gives referred buyers greater customer lifetime value to your business. 
How to leverage a referral program for your business
To begin, think of an incentive that fits your product or service offerings. If you are a software company, you could offer three free months of your premium service for a referral. If you're an online jewelry business, perhaps you could send a free gift to a friend when they buy a specific item. The most common referral incentives include discounts, cash prizes, free merchandise, cash rebates, and gift cards. Think about an incentive that fits both your business model and customer values.
Next, sort out the terms and conditions on who can participate in your program and how many times they can refer someone. Once you have your incentive and reward system planned out, you'll need a process set up to ensure customers get rewarded when referrals occur. This will vary based on your company. For instance, you could use a discount trigger that goes off when referrals use a custom link, or a push notification that prompts your shipping team to send a gift to a customer's home address. 
Lastly, your referral program can't be successful without people knowing about it. Now's the time to communicate and promote your referral program. Leverage all of your different marketing channels to announce, promote, and remind your audience about your program. 
Example of a killer referral incentive program: Glossier
Makeup and skincare company Glossier has an iconic referral program. The incentive comes with the cheeky name "friends with benefits", making the program stand out as fun and playful.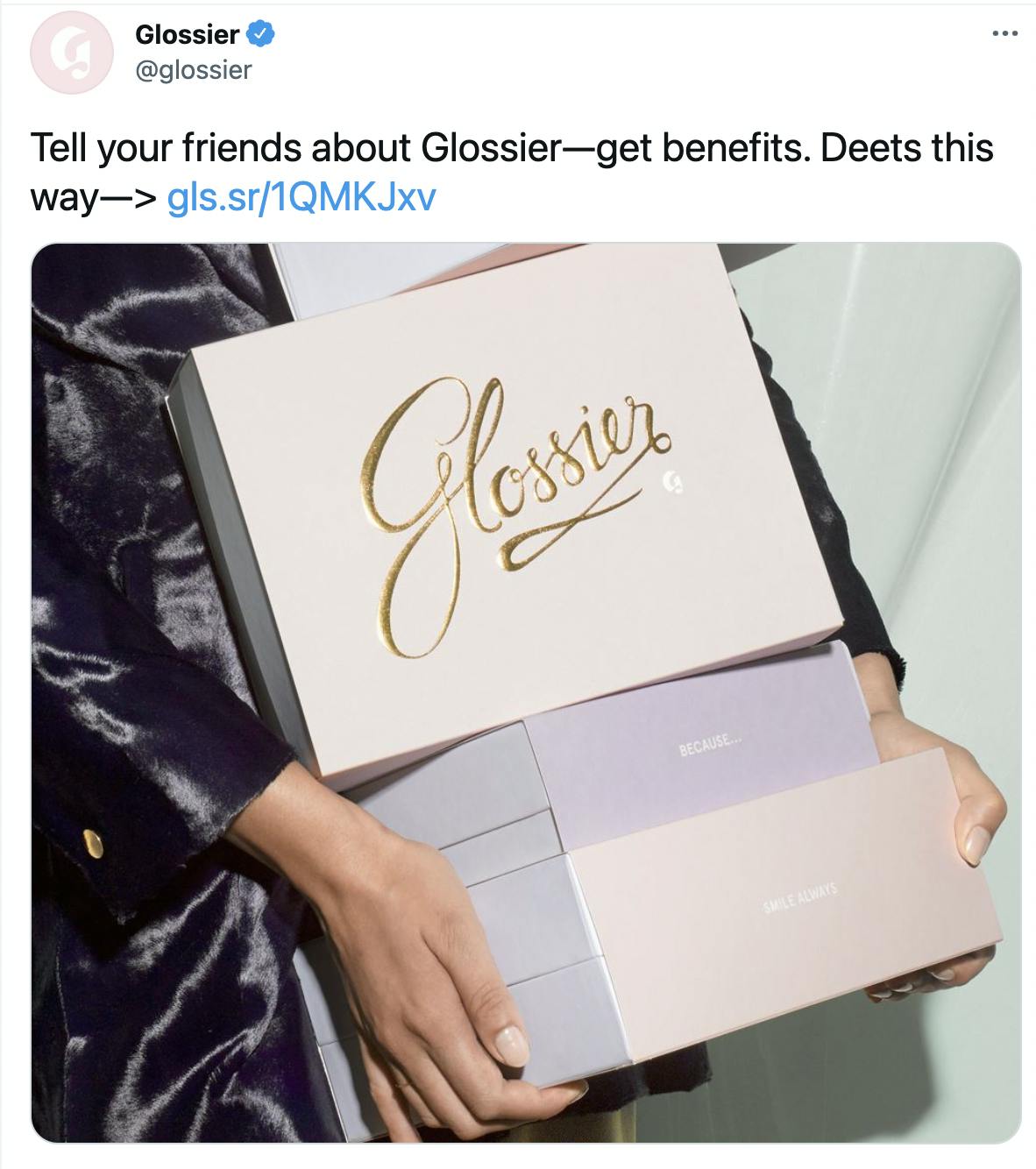 Glossier's program gives a 10% discount to new customers and $10 off to current buyers. The program is approachable, the referral links are easy to access, and the incentive is simple. Glossier fans love this offer so much they've blown up Reddit by sharing their referral codes and giving the benefit to complete strangers

2. Partnerships 
The most underutilized marketing growth strategy is partnerships. 
Partnerships are when two companies on similar missions join up to benefit their customer base and each other's businesses. Partnerships are a great way for e-commerce brands to share resources, information, insights, and shine brand awareness on each other's businesses as a way of referring leads. 
Partnerships represent a completely independent revenue driver for businesses, one that can stand alongside marketing and sales while remaining cost-efficient to your company. In fact, a successful partnership program can add an average of 28% to your bottom line, while driving growth in a competitive advantage to your brand. If you do one new thing this year, engage your partners!
How to implement partnership marketing for your business
Partnership marketing starts and ends with business relationships. If you notice other businesses with similar target audiences, yet delivering different products, you have a whole new set of potential customers to tap into. Look for partners who align with your brand values. Partnerships are collaborative relationships that should be approached in a creative, transparent, and relationship-focused way to reach new communities and networks. 
An ideal partnership is mutually beneficial and begins by uncovering innovative ways to introduce each other's brand to each other's database with the intent of increasing revenue growth, brand awareness, and improving customer retention. You want to find ways to leverage the trust and loyalty that exist within your partner's audience of buyers. Look for ways to position your offering in a way that resonates best with these people. Successful partner marketing drives highly relevant, high-intent leads who have a greater chance of converting compared to other channels. You can expect to see higher conversion rates from partner referrals than from those who discover your brand on their own.

Partnership marketing offers a range of opportunities to reach your target audience. You can use an affiliate program to work with third-party sales or approach companies directly to collaborate on co-marketing efforts, like Clearco's F*ck Yah Fridays. Both scenarios give you the chance to extend your reach and grow your audience, as well as provide a new stream of leads with the potential to turn into new customers. From a business perspective, partner marketing is an extremely effective way of leveraging the trust and goodwill that customers have with a partner brand. Think about how many times you've learned about a service from a podcast, simply because the host recommended it. Next thing you know, you can't help but notice their ads while scrolling on Instagram.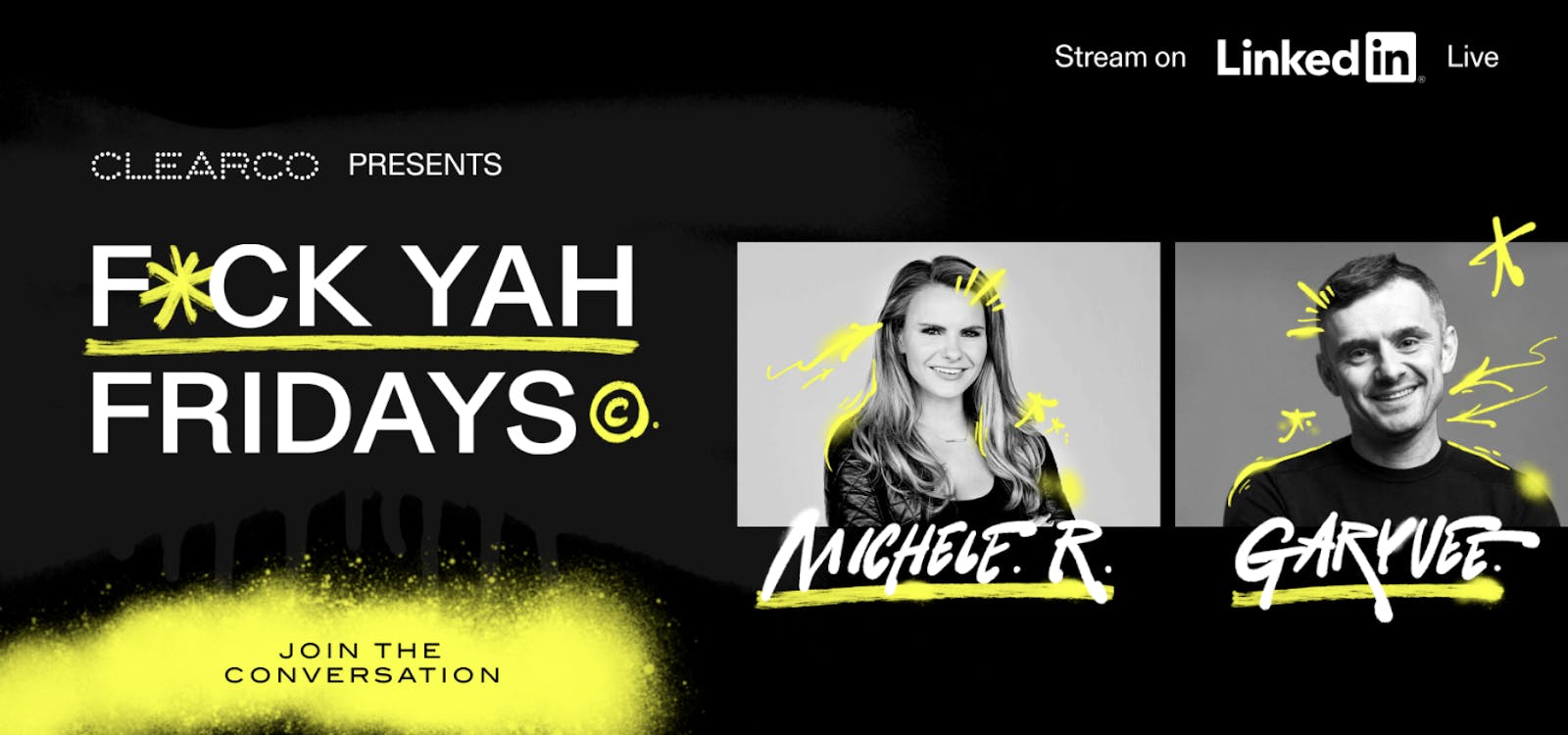 Before starting to work with a new partner, make sure that you have a written agreement outlining your goals, partnership plans, KPIs, and what assets should be used as well as marketing channels to disseminate content. 
Example of timely partnership marketing: Airbnb and Qantas airlines
Airbnb and Qantas Airlines' partnership is a superb example of a partnership benefitting people exactly when they need a service outside the brand they already buy from. Airbnb has developed a points program that allows renters to earn flying points with Qantas Airlines. If an airline flyer is booking a flight, they simply need to input their Frequent Flyer number to be redirected to Airbnb and start earning more airline points as soon as they book a rental. Book your Airbnb, get flyer points to save on flights… what could be more timely for travellers?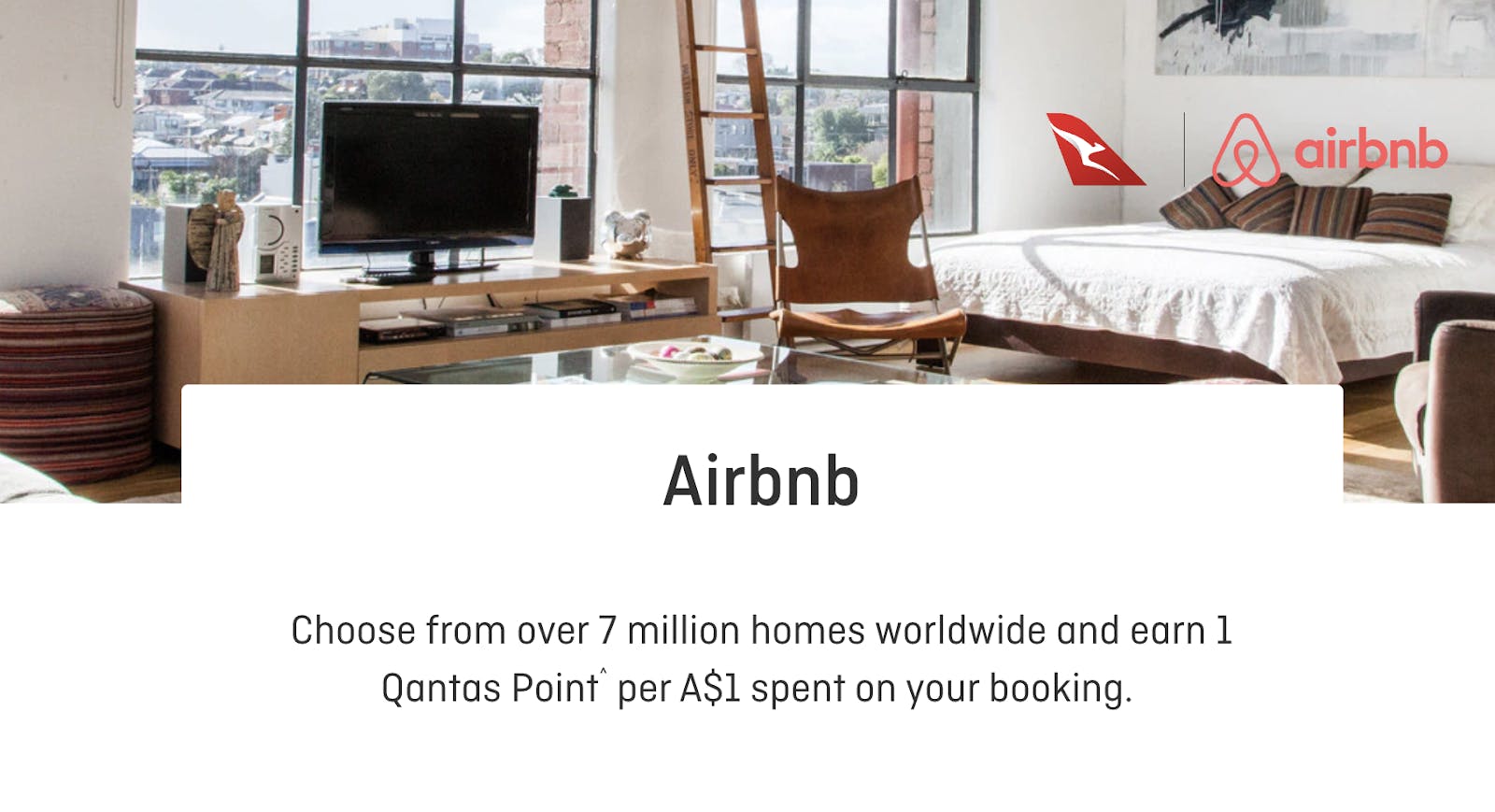 3. Influencer Marketing 
At its core, influencer marketing is a form of social media marketing. It involves product recommendations and promotions from businesses, people, or organizations that are well known within a specific field of expertise. Influencers, also known as content creators, are trusted voices in a niche community that provide an authentic third-party endorsement. Audiences look to their favourite creators for recommendations and unique stamp of approval, both of which are extremely valuable. 
Influencer marketing works because a real, trusted, third-party person is vouching for your business. Nano-, micro-, and macro-influencers across all social platforms can provide value to a business by advocating for a product, service, or company to their target audiences. No matter the goal—to raise brand awareness, build brand affinity, drive conversions or link clicks—influencer marketing can accomplish it all.
How to create a successful influencer marketing campaign
Influencer campaigns come off as wholly authentic, real, and sometimes wildly unpolished. This gives influencer campaigns an added level of accessibility traditional advertisements can't really capture. 
Start by looking for authentic partners that would use your product or service, even if not paid to do so. If an influencer focuses on beauty, there's a good chance their audience is interested in beauty, too. This would make them a great fit to endorse a makeup or skincare brand. If you already have your own fan base made up of creators that have an engaged online following, use them to help with your marketing. Reach out and see if they'd be interested in talking about your brand in exchange for some free product or by sponsoring their content creation. 
Be sure to gauge how interested and enthusiastic the influencer seems about your brand. You don't want the influencer to seem stiff and unnatural when they create content about your product. The more authentic the partnership, the more likely the audience is to trust the recommendation and make a purchase.
Influencer partnerships can take on many forms. You can work with an influencer on a one-off paid activation like a sponsored Instagram post, get them to host an event, or build longer-term partnerships by hiring them as a more traditional brand spokesperson. Figuring out which type of influencer is best for your brand depends on your audience, targeting, budget, and what content you're looking to create. You can also provide influencers with a unique coupon code or incentive for their own followers to make purchases. Not only does this drive further sales, it allows you to better track which influencers are bringing in the most business.

Example of an inspiring influencer marketing campaign: Alo Yoga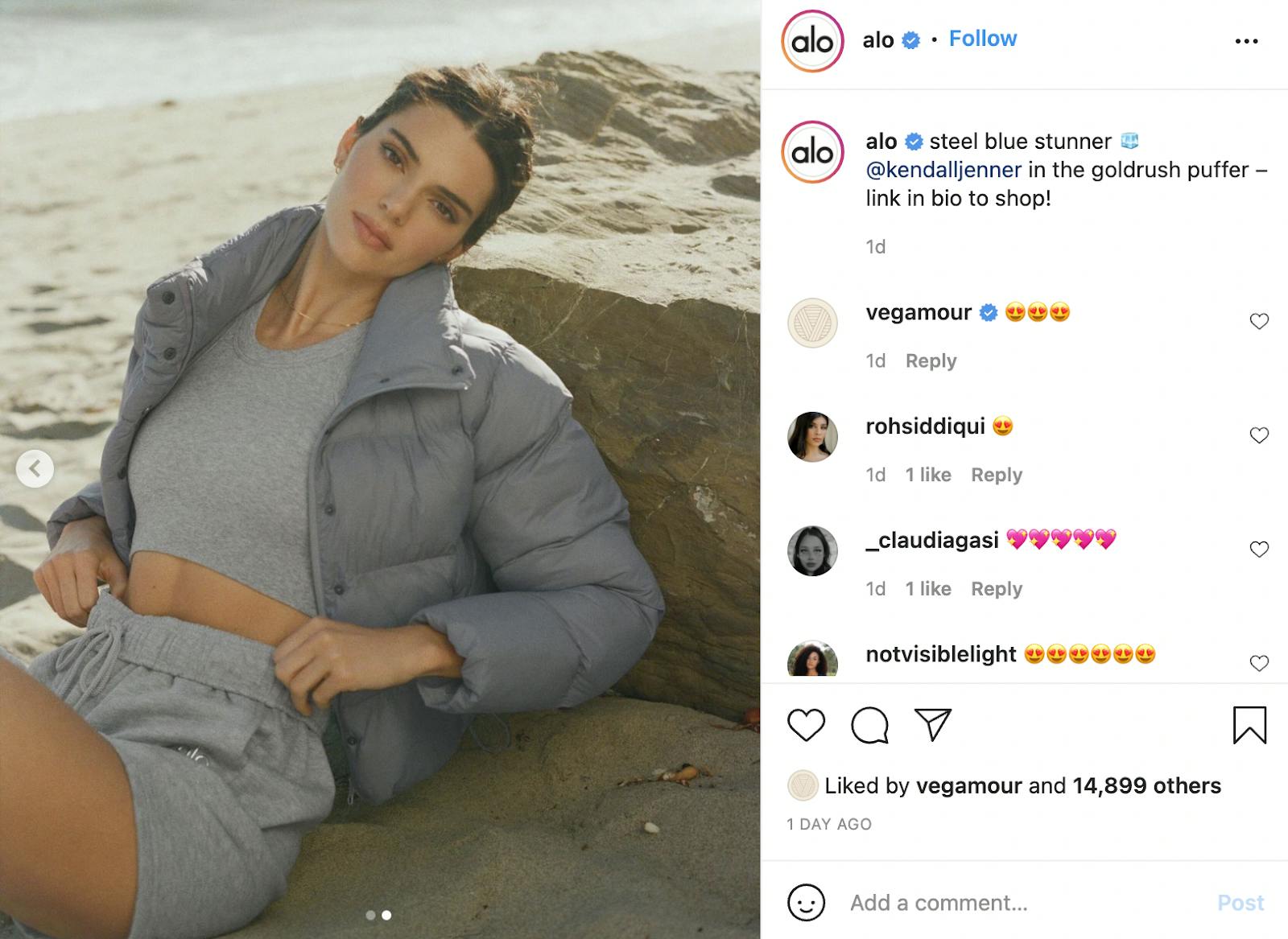 This summer it was hard to scroll through Instagram without seeing a post about Alo. Alo Yoga has built its entire brand on influencer marketing and has become a top player in the athleisure space. What started as a common influencer strategy with sponsored posts and influencer gifting has now transformed into a large-scale program. This program includes in-person events with top influencers and celebrities. In June, they hosted a four-day wellness event in Los Angeles to wild success. Packed with top celebrities and influencers in attendance, there were Instagram-worthy moments at every turn. Naturally, the event was widely shared across Instagram, YouTube, and TikTok. 
4. Outbound sales 
Outbound sales is when a sales team actively reaches out to potential leads to sell them products and services. It's a means of getting potential buyers' interest through a variety of methods such as cold calling, emailing, direct social media engagement (DMs), video messages, texts, and more.
Outbound sales allow businesses to capitalize on revenue opportunities that an inbound model may not fully penetrate. Outbound sales offers a more strategic and personalized approach to customer acquisition which can increase retention and lifetime value of a customer. If a buyer understands that your offering is specific to their needs, they're both primed to purchase and more likely to be a repeat customer due to the one-on-one relationship they have with your sales rep. This can come in particularly handy when attempting to sell to wholesale distribution prospects.
A well-trained outbound sales team ties their businesses' value proposition to an individual's unique business needs. This allows for a more intimate relationship with your buyers that can also influence other strategic initiatives like product development. Under the outbound sales model, a company can more effectively move up-market and target larger buyers. Companies that have the right balance of inbound and outbound strategies are well poised to dominate the market share in their given category.
How to use outbound sales (even if you're shy)
A diversified approach to outbound sales should yield a higher conversion rate. Experiment with cold calls, emails, social media touches, video messages, and text messages as a way of gaining familiarity with your prospect.
Let's say you send a hyper-personalized email to a prospect. It catches their attention, gets opened, and then gets deleted. Womp, womp. Then, you call the prospect, and they don't answer. So you leave a message. You send them a follow-up email after that, and then engage them on LinkedIn. By this point, both your name and your company's name has become 4X more familiar to that prospect. This allows them to be more aware of your brand when they scroll by ads or hear your company mentioned in the news.
If you're shy or feel awkward making sales, there's a few different things you can try: 
Hire someone to do outbound sales for you. If it's not your area of expertise, train someone on your brand's unique selling proposition (USP) and set them up for sales success.
Use email as an icebreaker. Email outreach can feel a lot less awkward than a phone call or one-on-one meeting, and you can mention your initial email in future outreach attempts. 
Leverage tools. Salesforce, for instance, can help you track progress; once you see the numbers, you'll gain confidence that outbound sales is a growth strategy worth doubling down on.

Example of a strong outbound sales team: WHOOP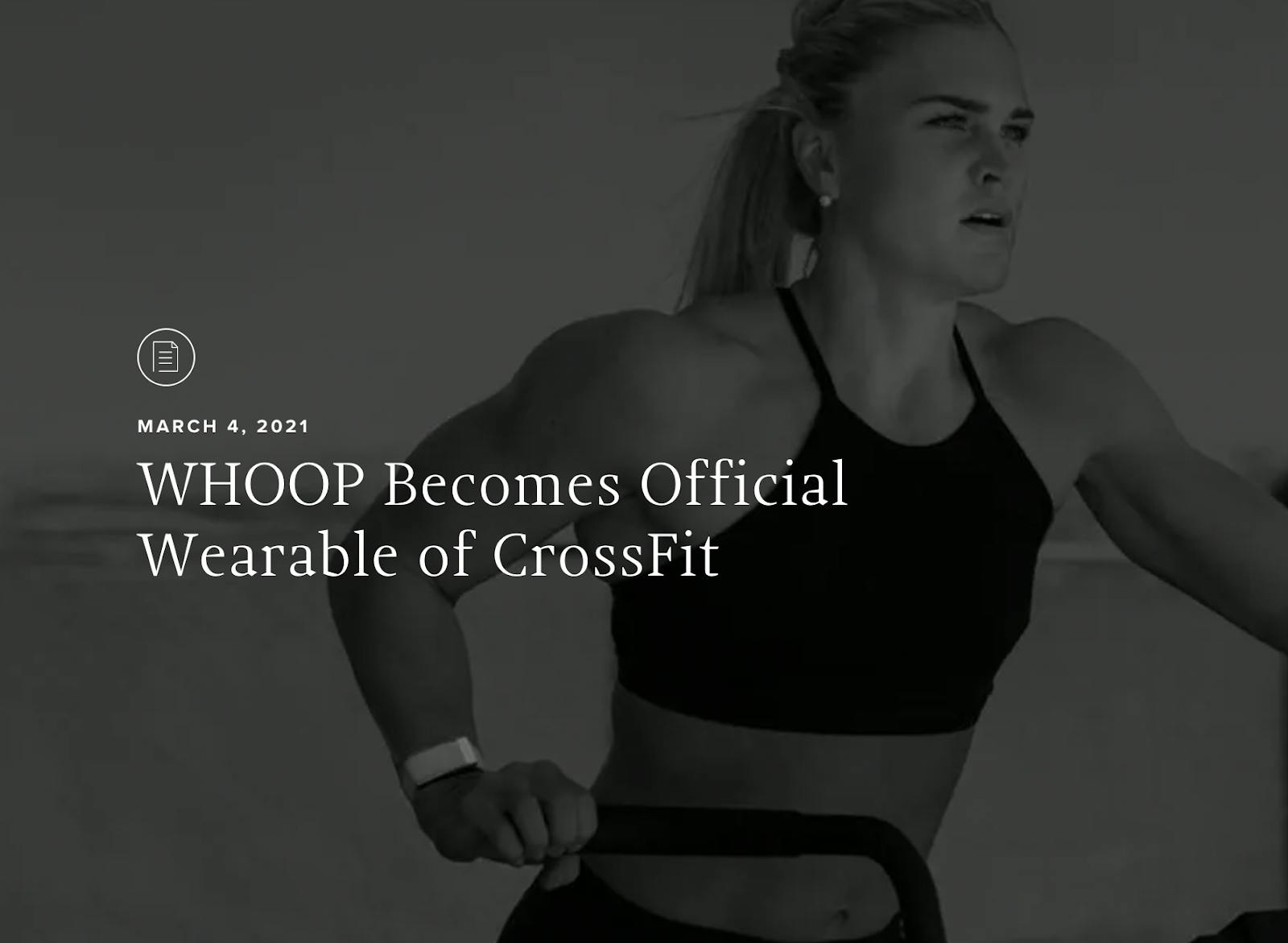 WHOOP is a wearable technology company and a great example of a company that meshes both inbound and outbound growth strategies. WHOOP is particularly notable for its adoption by professional athletes. 
Not only does WHOOP create a wealth of content to attract inbound leads, they have a variety of outbound sales teams for both the enterprise and small market prospects. These sales teams have allowed WHOOP to close some massive clients like football player Patrick Mahomes and pro golfer Justin Thomas. Outreach is key to strong partnerships: WHOOP is the official wearable of CrossFit, which has benefited their brand awareness and allowed them to gain tremendous market share in the wearables industry. Whoop WHOOP!
5. SMS marketing
SMS stands for short message service. It's how a brand can communicate with its audience via text messaging. Text messaging is a more accessible, instant means of communication than email or other online growth marketing strategies. 
Email marketing, previously a sales powerhouse for e-commerce brands, doesn't convert as well as it once did. Research shows that SMS open rates are as high as 98% compared to just 20% of all emails sent. And as of 2021, 67 million Americans redeem coupon codes via their mobile phones. Receiving an SMS message on the go has even more of a chance of being noticed. 60% of customers read text within 1-5 minutes of receiving one. So why not offer discounts and promotions in a place where your communications are seen and where buyers are making purchases?
How founders can leverage SMS marketing
SMS can be an extremely powerful tool if used carefully. Look for opportunities to ask for permission to get a prospect's phone number. Could this be at your point of sale? Can you give customers an option to sign up for SMS communications rather than email? Can your text service be a customer service line listed on your packaging?
Because you have a customer's phone number, be sure to use it responsibly. Phone numbers are personal information and companies must be extremely careful in how they use them. Because SMS marketing is more personal than email, it can be easy to abuse. Don't lose the privilege of communicating with your customers because you spam their phones. Instead, respect that they may not want frequent communications from you.
As with email marketing, it's important for businesses to use list segmentation so that you can send relevant communications to your subscribers. This is particularly important with SMS messaging. For instance, if your customer abandoned a cart, you can send them a message when that exact item goes on sale. 
As a best practice, we recommend implementing SMS alongside your email marketing to double your chances of conversion. It's best practice to look for opportunities to get some subscribers, then determine which communications are good for SMS versus email. For example, if you want to send out a mass communication, don't use SMS. Mass email blasts to your full list are better suited towards email marketing strategies.
The best SMS marketing example: Taika ☕️
Taika canned coffee makes sure to showcase their customer service number boldly on their cans. If you have a customer service inquiry, simply text them. Taika has a strong brand voice that features a quirky sense of humour. So expect a silly response.

Photo credit: taika

True to the purpose of this number, it is mostly used as a customer service line. It allows the brand to make intimate connections with their buyers, provides some comedic entertainment, and creates a memorable brand personality for the company.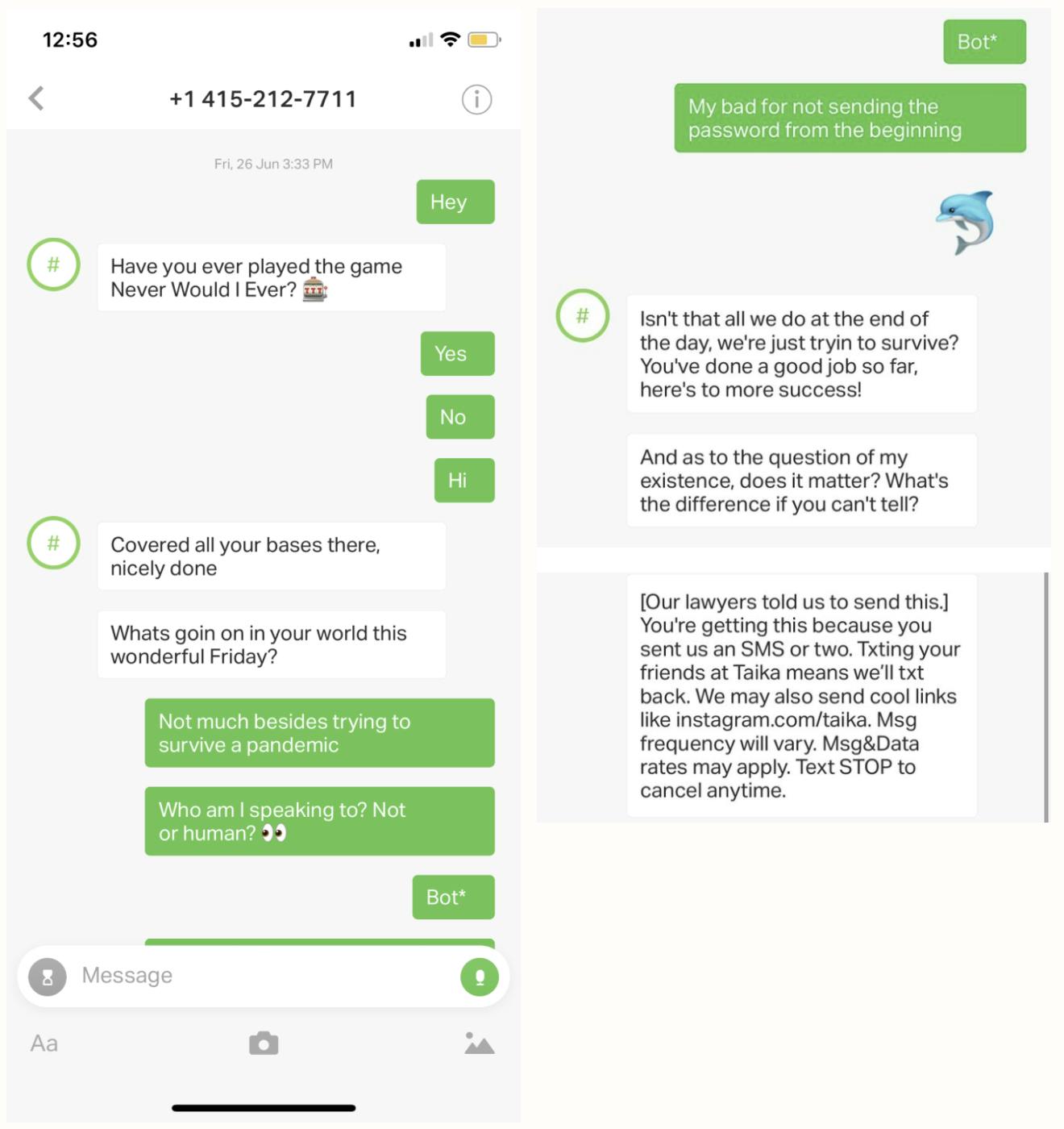 Clearco: Your secret marketing growth strategy
The only way to figure out which of these strategies will work for you is to try them yourself!
More than just a company that funds marketing capital and inventory, Clearco is made by founders, for founders. We aim to partner with savvy e-commerce entrepreneurs at every stage of business growth.
Join our army of founders that are always putting their heads together to come up with the most innovative marketing techniques and tactics that work. Clearco also provides marketing and business coaching, data-driven tools, and funding to grow your marketing initiatives without adding any more work to your plate. Learn more about us here.
The Complete Multi-Touch Attribution Guide
Know which marketing channels drive revenue
Get the Guide
The Clearco Newsletter
Sign up to get fresh content straight to your inbox!