Make Email Marketing Automation & SMS Your Core Strategy
Whitney Blankenship
October 20, 2021
Whitney Blankenship is a Content Marketing Manager for Clearco partner Omnisend.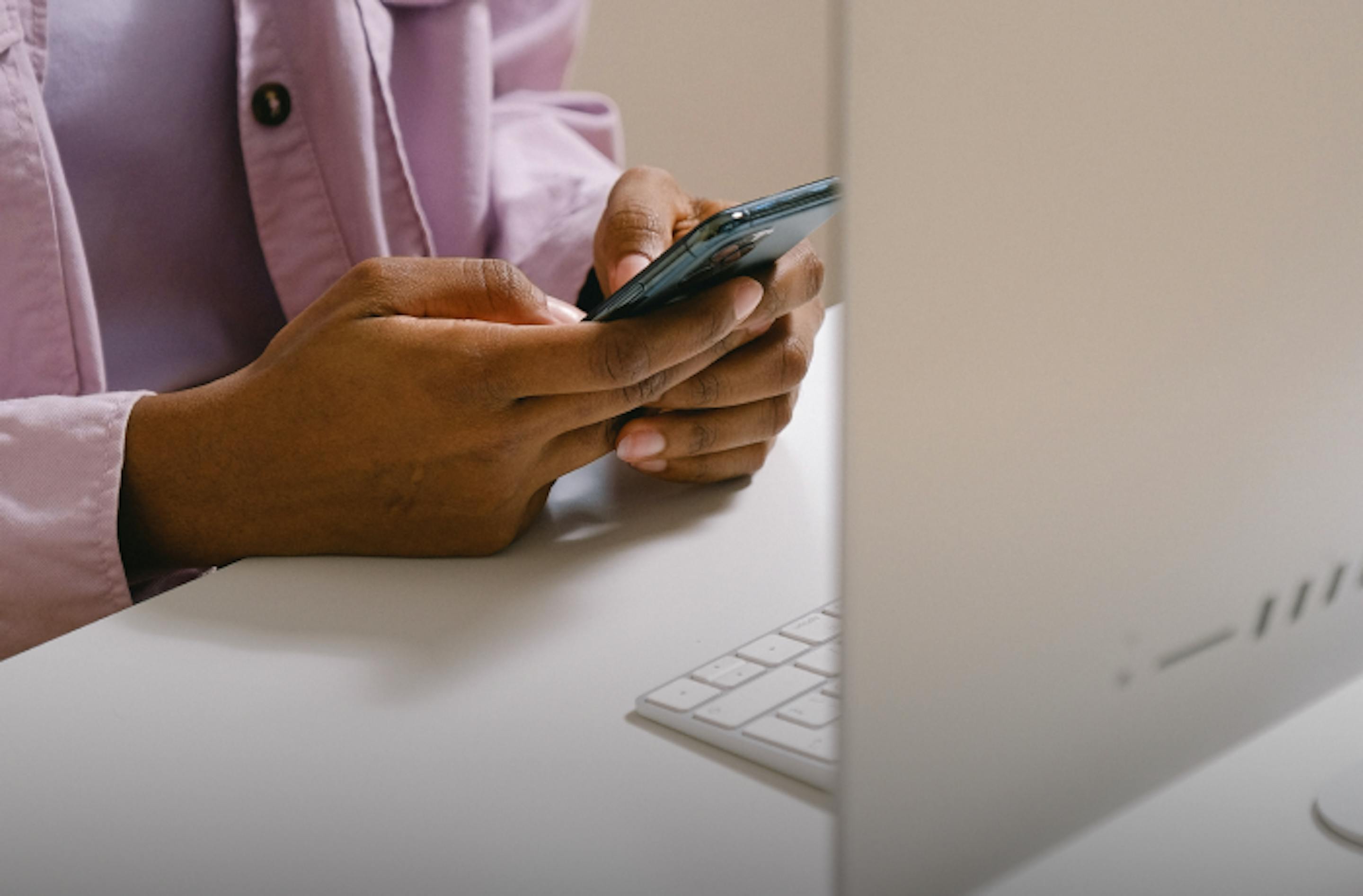 Photo credit: woman on cell phone and computer
There's no need to make a case for email marketing—it's already common knowledge that email marketing is a crucial piece of any successful e-commerce strategy. However, many online merchants are still reluctant to invest their time and energy into automated email campaigns and SMS, relying instead on email blasts, newsletters, or promotional emails, to convert the majority of their customers.
There's nothing wrong with one-off promotional emails: they drive an essential piece of revenue.

However, if anything, last year has shown us that while yes, email is a primary channel for at-home shopping, merchants neglecting automation and other opt-in channels like SMS, are simply leaving money on the table.
Using data from over 10 billion email messages analyzed in our E-commerce Statistics Report, the case for lifecycle automation and text message marketing couldn't be clearer for e-commerce success in 2021.
Lifecycle Email Automation Drives Revenue for E-commerce Brands 
To say that conversion rates for automated messages eclipsed those of one-off promotional campaigns is an understatement. With a conversion lift over campaigns of 359%, automations were a significant revenue-driver for e-commerce merchants last year.
Topping the charts, with a whopping 51.94% conversion rate, is the automated welcome email series. With a conversion rate that would make even the most stoic marketer weep, welcome emails earned a 700% higher conversion rate than one-off email campaigns.
Unlike non-opt-in channels, those who are signing up for email are manifesting their purchase intent. This explains why one of every two people who click on a welcome email makes a purchase. By sending a timely welcome series, companies can capitalize on customer intent, making them more likely to purchase.

But welcome series emails are not alone. Cart abandonment emails, for example, earned the second-highest conversion rate among automation workflows at 33.9%—422% higher than stand-alone email campaigns.
Welcome emails earned a 700% higher conversion rate than one-off email campaigns in 2020.
- Whitney Blankenship, Omnisend
Other behaviour-based lifecycle automation, like browse and product abandonment, have a similar impact on email conversion rates. All in all, the data tells the story: sending the right email at the right moment is enough to nudge prospects over the finish line.
But what about those without a high-intent to purchase? It might just be enough to bring back customers on the verge of churning. Automated lapsed-purchaser emails converted at  21.3%, the third-highest of all automations sent last year. Even sending these automated messages to "cold" customers converted nearly 228% more than one-off promotional emails.
Automation is the crème de la crème of email marketing for e-commerce brands, and yet, it is underutilized by many. In 2020, automated messages accounted for less than 2% of total email sends, despite driving nearly 30% of all email conversions. Imagine how much more revenue automation could drive if it were used as frequently as stand-alone promotional campaigns.
Transactional Messages: The Biggest Missed Opportunity in E-commerce
Transactional automated messages are a standard in the e-commerce industry for brands and customers alike. For many brands, this is the first kind of automated message they set up—and with good reason. Order confirmation and shipping notifications are customer expectations that you can't afford to miss.
Transactional messages have some of the highest open and click-through rates of all automated messages. This means that these messages have the highest probability of landing in front of your customers' eyes, and therefore, present a unique opportunity for conversion. So even if these automation workflows are already in place, it's time to make them work towards more than just reassuring your customers (beneficial, though that may be).
Last year, more e-commerce merchants capitalized on adding incentives and product recommendations for up-and cross-selling in their order and shipping confirmation emails than ever before. Since these automated emails are sent at a time when your customer is already feeling positive about having purchased from you, they are more likely to make another purchase.
Order confirmation messages ended the year with a 13.55% conversion rate, while shipping confirmation messages ended at 4.51%. While these might seem low for an automated email, when you consider that the open and click-through rates were some of the highest of any automation workflow last year, it's a significant amount of revenue you could be adding to your bottom line.
And the most important part is each of these conversions represents a repeat purchaser—the holy grail for companies.
SMS Had Its Coming Out Party in 2020: Here's Why You Should Jump on It for 2021

SMS was the channel to watch last year, and for good reason. Adoption increased quarter over quarter in 2020, with Q4 accounting for 63% of all SMS sends for the year, becoming a clear revenue driver for e-commerce brands at maybe their most critical time for sales.
While SMS was a bit of a dark horse in 2019, e-commerce merchants saw the value in 2020. In terms of performance, click rates increased by 10.6% on average between 2019 and 2020; however, when you consider that e-commerce merchants sent 378% more SMS messages in 2020, that number is much more significant.
Where SMS really impresses is in conversion rate, increasing 102% from 2019. Conversion rates for SMS were highest in November, reaching 3.2%. Considering that November had the highest amount of sends, the rise in conversion rate tells us that merchants were confident in sending SMS for their holiday campaigns and that customers were ultra-receptive to receiving those messages.
SMS has proven over the last few years that it's no longer an optional channel for e-commerce stores. For those who want their lifecycle automation workflows and promotional campaigns to be successful, adding SMS into the mix is an absolute must for 2021.
Key Takeaways for a Successful Year
The case has been made for relying on lifecycle automation to increase sales, and the data backs it up. These e-commerce marketing trends have been steadily visible for several years. Companies that fail to capitalize on their potential today will find themselves playing catch up tomorrow.
With that in mind, here's what you need to drive more revenue this year:
Rely on lifecycle automation to increase your sales, not your workload: they earn you more and require far less work and time investment. 
Don't neglect your transactional emails: these messages act like sleeper-agents ready to reconvert your customers when they're already in shopping-mode. Don't discount their open and click-through rates—they're far too high to ignore. 
Your customers want SMS—give it to them! Add SMS alongside your email messages in your lifecycle automation workflows to pack an even bigger punch over this year.
By following these tips along with best practices, you'll see a significant increase in revenue this year. To help you get started, sign up for a free trial of Omnisend.
The Complete Multi-Touch Attribution Guide
Know which marketing channels drive revenue
Get the Guide
The Clearco Newsletter
Sign up to get fresh content straight to your inbox!