Increase your Shopify sales with paid ads and polished content
Dan Morrison
August 30, 2021
Shopify is a dream for business founders—it's easy to set up and a great way to quickly get your product(s) on the market to start bringing in revenue. But it's not as simple as just setting up shop and watching the Shopify sales roll in. You've got to build awareness, choose your advertising platforms, and then iterate and optimize your paid ads in order to catch your prospects' attention and get the best bang for your buck.  
Let's take a look at the e-commerce landscape and some tactics you can employ to effectively increase your Shopify sales.
2020: The e-commerce landscape erupts
It's no secret that COVID-19 has accelerated the adoption of e-commerce across the globe. A recent report by Statistafootnote 1 points to a few key stats. 
In 2020:
Over 2B people purchased goods or services online
E-retail sales worldwide topped $4.2T USD
Global retail e-commerce sales grew by over 25%
In case you didn't catch that, that's 4.2 trillion U.S. dollars, as in $4,200,000,000,000. And it doesn't stop there—based on their projections, this number will shoot up to $6.3T USD by 2024. 
More shocking is when you look back five years to see that global e-commerce sales totaled just $1.8T USD in 2016. That's not even half of the sales seen in 2020 and proves that e-commerce sales were already poised to blow up, pandemic or not. 
How to increase your Shopify sales
Perfect your paid ad strategy
Establishing a paid ad strategy is absolutely crucial when it comes to driving Shopify sales. After all, if your potential customers don't know about your brand or product, how do you expect them to land on your Shopify store?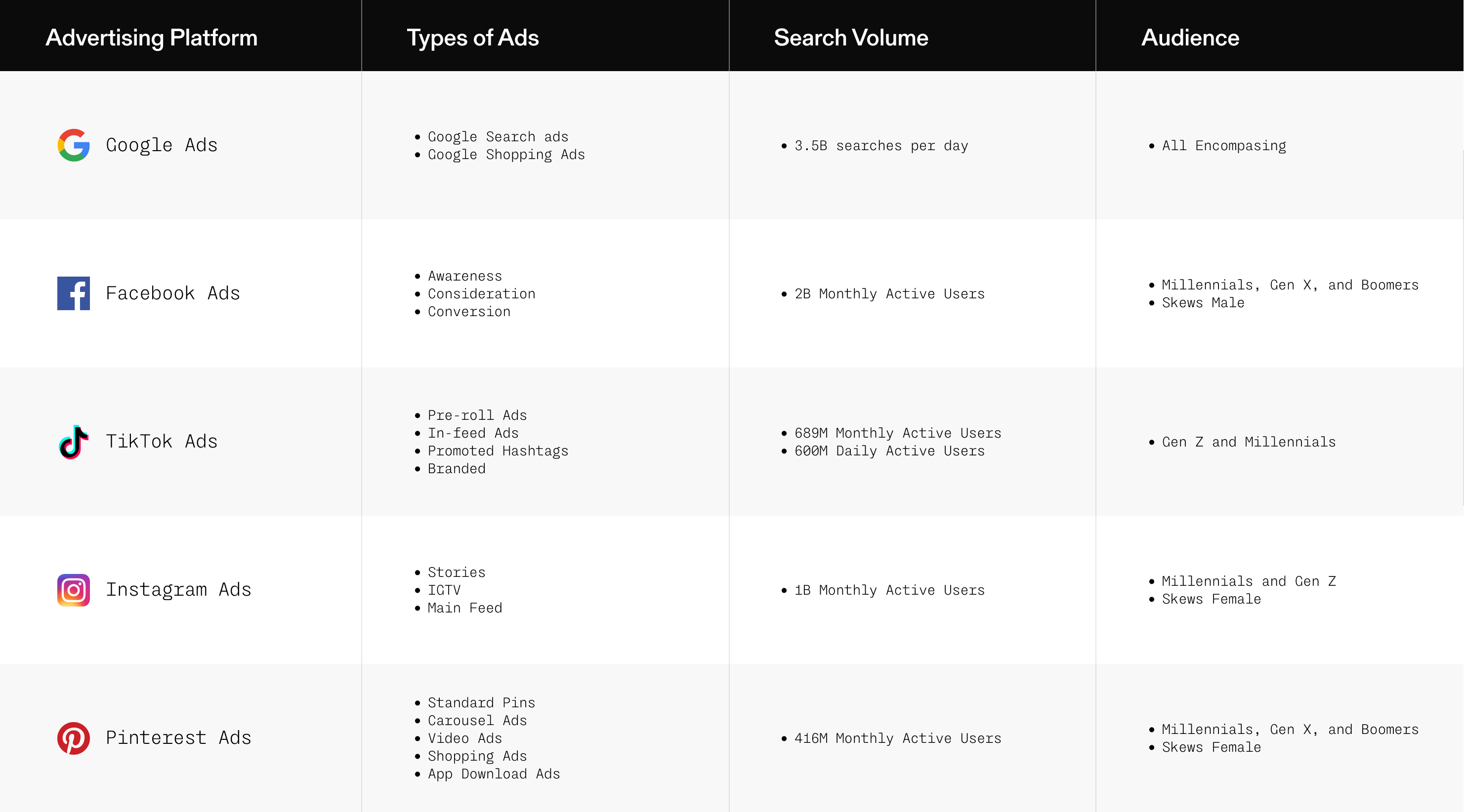 Produce polished content
Equally as important as developing a well-thought-out paid ad strategy is the content you're producing. Getting your ads in front of prospective customers is great and all, but if your content itself is lacking, you'll likely lose their attention (or never get it in the first place). When it comes to optimizing your content, you want to focus on three aspects: copy, design, and testing.
Crafting copy to boost Shopify sales
Sometimes ad copy is overlooked by founders who are quick to pour money into expensive designs, but copy is important! After all, without copy, your prospective customers won't know who you are as a brand or what you're selling. 
If you struggle with writing in general, you can hire a freelance copywriter or content creator to develop your first few campaigns. You want your brand voice to stay consistent across your website, paid ads, and organic social posts. If you go with a copywriter, don't just ask them to write one ad for you, but instead have them craft copy for your homepage, your Shopify store, and social media. 
Keep in mind that social posts have differing character counts, all dependent on the platform as well as if they're paid or organic posts. Remember, less is more—don't max out the character count for every post you write. Keep it short and punchy on social media, and then build off those catchy phrases on-site and on your Shopify store. 
Designing assets to boost Shopify sales
With the design, consistency is the name of the game. While you don't want to use the exact same designs across your paid ads, organic social posts, and your website, you'll want to ensure your design is telling a story. 
If you're using stock photography, use images from the same photographer (or images of the same stock model) for a consistent look and feel across different channels. Taking your own photography is a great way to ensure you keep the same look and feel throughout the customer journey. This doesn't mean you have to hire a photographer to snap your product and lifestyle pics—your phone likely has a great quality camera attached to it. 
As you start to see Shopify sales roll in and your follower count rise on social media, you can even run giveaways or contests to encourage your community to submit their own photos of your products. This is a quick and cheap way to get user-generated content (UGC) which you can then post to your channels. 
I know what you're thinking here—how do I keep UGC consistent with my branding? The answer lies in filtering your photos. Consider using an app like VSCOfootnote 2, and choose a filter (or grouping of filters) that fits in with your brand, then apply those filters to your photos to keep them consistent. 
When sourcing—or taking your own—photos, think about the different platforms on which your photography will appear. To save time and money, take more photos than you think you need, and consider orientation (landscape vs. portrait) as well as where your photography will be featured. 
You'll want to consider your homepage, Shopify product pages, and both paid and organic social posts. Each platform will require different sizing and resolution, so do your research before you jump into a photoshoot! 
Test, test, test
Once you've got a stockpile of photography and copy for your website, Shopify store, and social pages, it's time to test. A/B testing is a great way to better understand what content resonates with your audience. Here are a few straightforward tests you can run in order to refine your content and better understand your audience: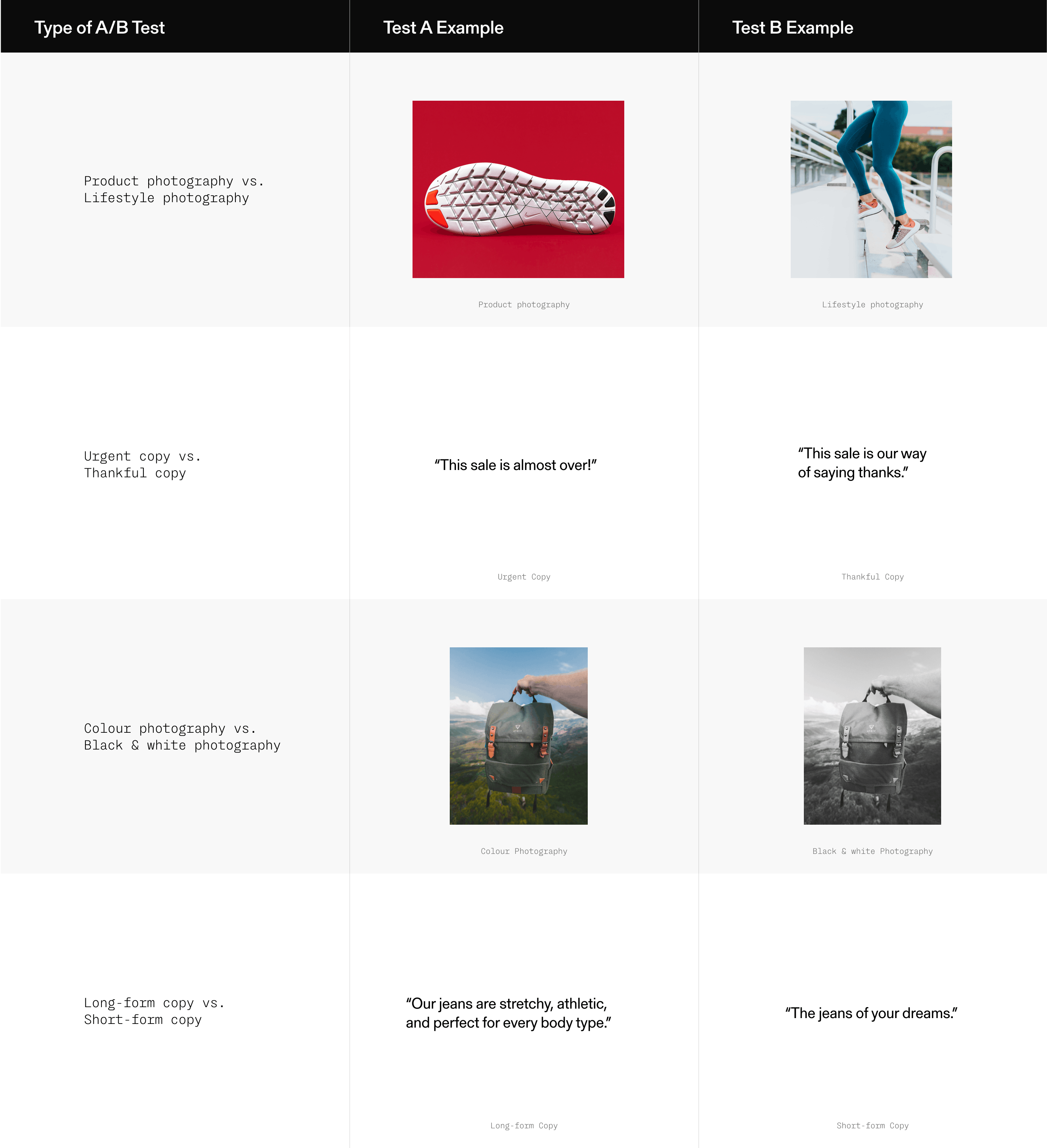 Increasing Shopify sales through expansions
Our final tip for boosting your Shopify sales lies in a tried and true business method: expansion. If you've already got a loyal following but your Shopify sales are plateauing, it might be time to look at expanding your offering or your reach.
Have a great product idea but haven't implemented it yet? It might be time to lean into your idea and launch a new product (or full product line). Talk to your existing supplier or leverage the power of R&D to build something that's not yet on the market. 
If you don't already have new products in mind, don't fret! You can use organic social media or email marketing to survey your followers to understand what products they want to see from your brand. Better yet, turn your survey into a giveaway competition to kill two (or three) birds with one stone.

Some benefits of running a survey giveaway competition:
You get great product ideas
You create brand awareness with the giveaway  
You create a buzz for your upcoming product launch
If you're already maxed out on the product front, you can also try another type of expansion: international. Luckily for you, Shopify is available in several countries around the world, allowing you to sell outside of your local market. If you're looking to sell halfway across the world, however, you should consider the impacts to inventory management that will arise from being a global brand. 
How Clearco can help with your Shopify sales
If you're ready to take your Shopify sales to the next level, Clearco can help! Our flagship offering, ClearCapital, can give you access to $10K-$10M in as little as 24 hours. Unlike banks, you don't need to put up collateral or fill out endless paperwork. And instead of bracing yourself for a 6-9 month wait and intensive pitch process for VC capital, ClearCapital comes quickly and without the stress of pitching.
ClearCapital can give you the capital to:
Develop new products for your Shopify store
Expand into new countries and territories
Ramp up your online advertising program
Improve the look and feel of your digital properties
Hire staff to help take some work off your plate
What you choose to do with the money is up to you!
Is ClearCapital right for your business?
While we'd love to simply say, "YES, YES, YES!", there are a few companies that might not be well suited to take ClearCapital.

ClearCapital is right for your business if:
You're an e-commerce or subscription-based company
You're selling and advertising your products online
You have six months of sales data available
How to get funded
Getting ClearCapital funding is easy peasy. Believe it or not, it's a simple four-step process:
Connect your sales and marketing platforms to Clearco.
Get an offer in as little as 24 hours based on your sales and marketing data.
Repay us on your own terms. If you don't turn a profit one month, you don't pay us back that month.
Top up your funding instantly, when you want, and for however much you want.
References
https://www.statista.com/topics/871/online-shopping/#dossier-chapter1
Ready to scale your business like you've never imagined?
Sign up for ClearCapital today
Get funded
The Clearco Newsletter
Sign up to get fresh content straight to your inbox!