5 ways to improve e-commerce customer retention rate
Ryan Cordoni
November 03, 2021
Ryan is the Content Marketing Manager at Loop Returns, a returns automation solution for scaling Shopify stores. He writes about E-commerce, software, marketing, and everything in between.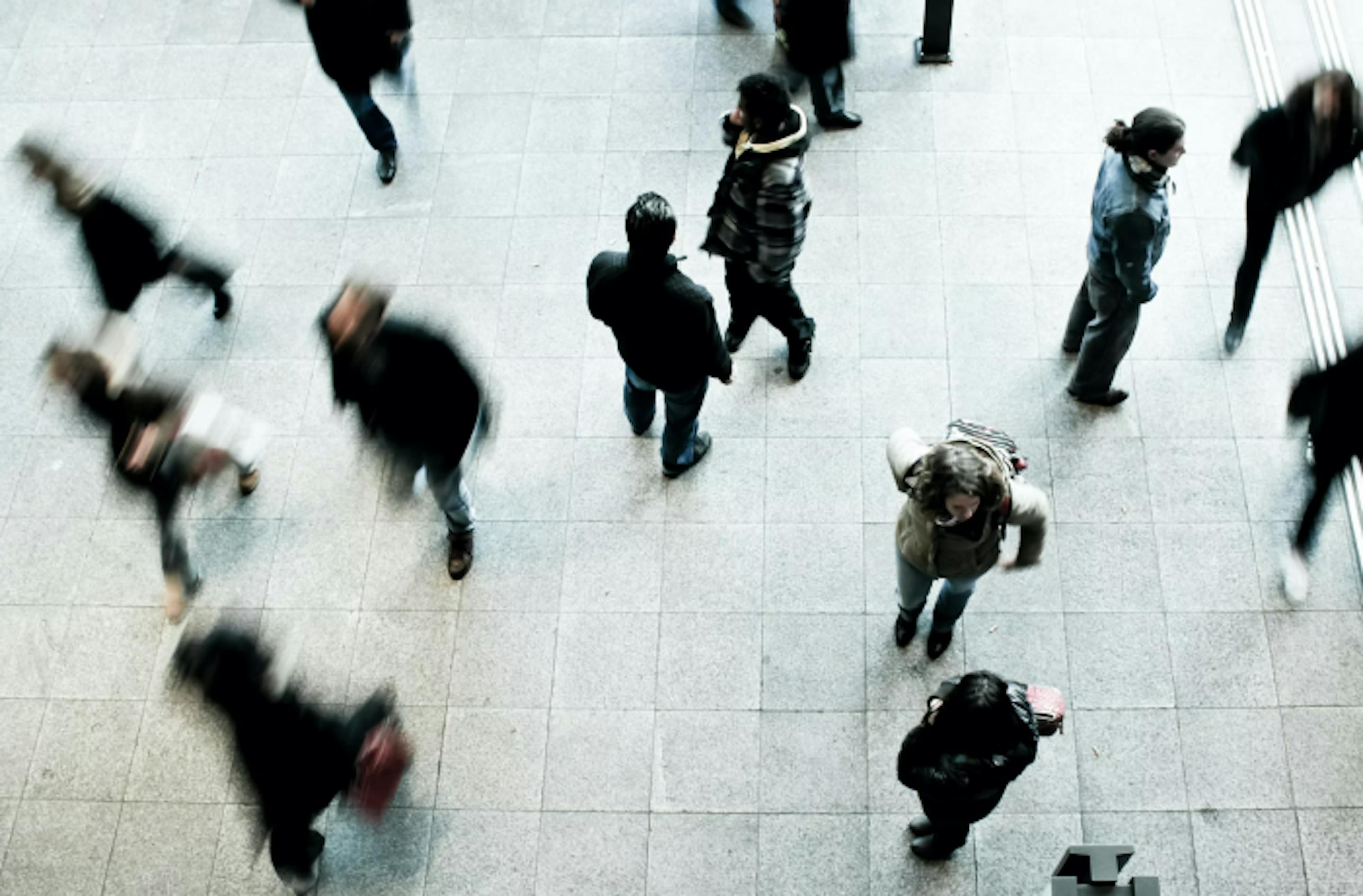 Photo credit: crowd of people
Customer retention in e-commerce is becoming one of the most important things for brands to focus on. Acquisition costs are up—​​​​and as competition increases, they can only go higher. This is especially true for busy shopping seasons, like Black Friday/Cyber Monday. 
If that's the case, it only makes sense to craft customer retention strategies that help keep people engaged with your brand. Engage your customers more and they will be more likely to buy from you again.
At Loop Returns, we spend an obsessive amount of time thinking about customer retention. Our returns management software plays a big role in the retention strategies of several brands you may have heard of like Chubbies, Knix, and Brooklinen.
Naturally, we've got some big ideas when it comes to customer retention, so we're going to share our 5 best ways to keep your customers happy for e-commerce brands.
Before we get to our tips, here's something to make clear: there are actually a ton of customer retention metrics in the e-commerce world. If you want to get really serious about it, consider tracking:
Customer Lifetime Value
Revenue Churn Rate
Net Promoter Score
Repeat Purchase Rate
Customer Churn Rate
Average Order Value
Profitability Per Order
Loyal Customer Rate
For today, we'll focus on customer retention rate itself. Keep in mind, focusing on any item in the above list is bound to help retention!

Photo credit: loop logo
What is customer retention rate?
Customer retention rate refers to the number of customers a business can retain over time. If your e-commerce brand is retaining customers, then you'll see a lot of good things happen.
More people loyal to your brand = more repeat customers.

If you build a loyalty program, you could even boost your customer acquisition results (more on that later).
What is the average customer retention rate for e-commerce brands?
According to Omniconvert, the average customer retention rate for e-commerce brands is around 30%. If your retention rate is higher—congratulations! 
How to calculate customer retention rate in e-commerce
To calculate your customer retention rate, you'll need 3 pieces of data. Once you have the data sorted, you can then use a common formula to get the rate.
S= Existing number of customers at the start of the time period
E = The number of total customers at the end of the time period (E)
The number of new customers added within the time period (N)
Got those numbers? Great, here's the formula:  [(E-N)/S] x 100 = CRR
The 5 best customer retention strategies for e-commerce brands
Here are 5 e-commerce customer retention strategies you can rely on:
1. Customer experience
What's better than a great pair of shoes? A great pair of shoes and a great customer experience.
Here's the deal: when it comes to great customer experience, the sky's the limit. A lot of customer experience is designed to secure the initial purchase. But here's where brands tend to slip up a bit... The post-purchase journey is just as important.
Since we're talking about customer retention, it makes sense to keep it framed around what happens after the buy button. An easy short-cut here is to check out some post-purchase software that could help you do things like:
Automate returns (Loop Returns)
Collect customer reviews (Okendo)
Send after purchase emails (Klaviyo)
Creating a custom approach to the customer experience is costly, but maybe worth it if you are a large brand. Start by checking out some of the apps listed above, then check out 10 ways to improve e-commerce customer experience for more ideas.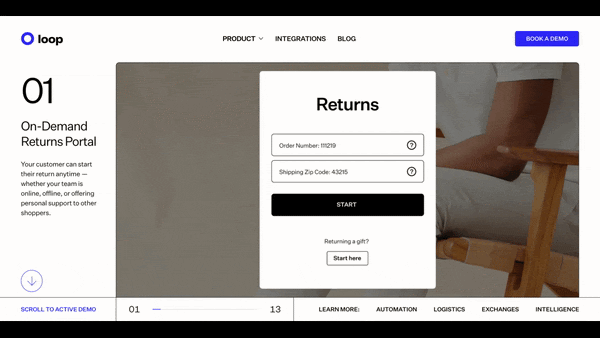 Photo credit: loop website
2. Start a loyalty program
Customers love free stuff—and guess what?! They stick around a lot longer when you reward them. Starting a loyalty program is a great way to keep customers engaged.
Ultimately, there's no limit to what can be done when it comes to loyalty programs. You can ask customers to write reviews, share their experiences on social media, or post links to your e-commerce store from their websites.
Of course, while they are busy accumulating points and cashing them in, you're increasing customer loyalty, paving the way to customer retention, and upping those coveted repeat purchases too.
3. Give customers exclusive offers/deals
People love exclusivity. They love to be part of a secret club where access is limited. Your e-commerce brand could be a place where people can scratch that itch! And it turns out that 94% of Americans would act on an exclusive offer.
Those sound like great odds. But no shortcuts! For this one to really work, you'll want to make the website experience personalized to each customer. Technology is really your friend here (more on that in a second).
For example, logged-in customers could be served offers based on how long they've shopped with you. Maybe you give them an exclusive birthday offer or discount every year they remain a member of your loyalty program. 
4. Survey your customer base
How good do you think your customer service is? Why guess when you could survey your audience instead?
Imagine what this kind of info could do to help you improve the user experience. It doesn't need to be a huge number of questions either. You could simply ask your customers a single question on a pop-up when they log into their account.
You could ask customers how they like your new fall collection—or really anything you think would provide valuable insights for your brand. This will help you tailor the experience customers have with your brand. Improve upon it and customers are bound to stick around longer.
The more you can understand customer post-purchase behaviour, the better!
5. Personalize emails (and everything else)
Get personal with your customers. Make them feel like you know them personally. These days, tech is making it easy to personalize the shopping experience for all customers—so there's no excuse not to!
The no-brainer first step is email marketing: there are so many tools out there today that can not only help personalize your content, but automate it as well. This can work together with an exclusive offer like we talked about earlier. Email marketing still has one of the best ROI of any marketing channel, so don't skip this one.
Beyond that, you can show different products on your site depending on the user. It all depends on what you want to keep track of for targeting your email list. The most obvious example is to show women's clothing to women, and vice versa.
Pulse check
How's your brand doing with retaining customers? Are you already executing many of these tactics? Or do you have lots to improve upon? If you're leaning toward the latter, fear not. Even the biggest brands are in a constant process of improvement.
The Complete Multi-Touch Attribution Guide
Know which marketing channels drive revenue
Get the Guide
The Clearco Newsletter
Sign up to get fresh content straight to your inbox!