Finding the best advertising platforms for your audience
Dan Morrison
January 07, 2022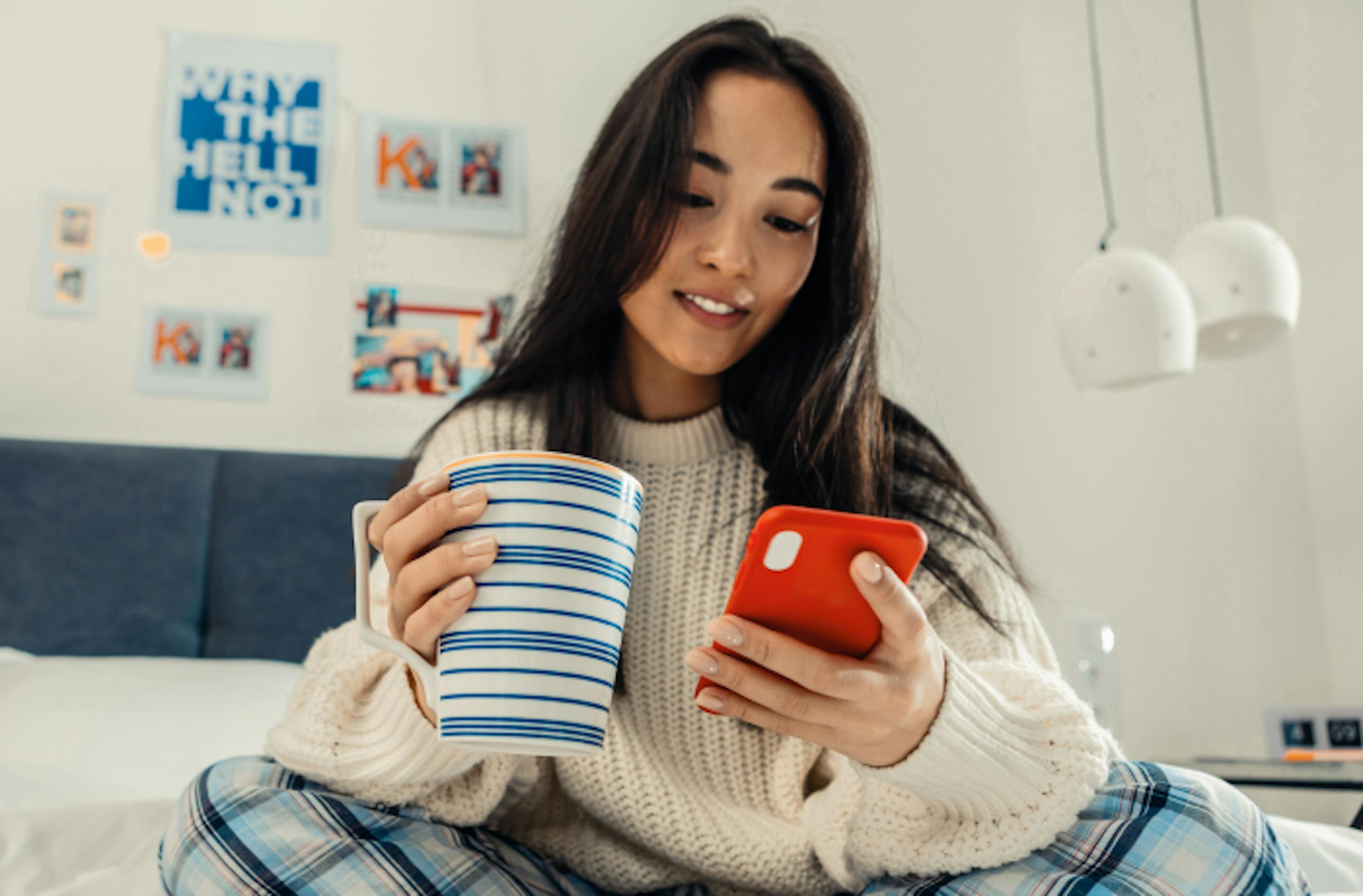 You've got a great product or service to sell and have a loyal customer base, but you're not seeing much growth in your audience yet. There are a plethora of things you can try, from ramping up your email marketing to optimizing the UX of your website. But if you're looking to quickly grow your audience and have some budget to play with, paid advertising is a great option.

We've put together a list of some of the best advertising platforms, including:
Google Search 
Google Shopping 
Amazon 
TikTok 
Facebook and Instagram 
Pinterest 
Microsoft (formally Bing)
Twitter 
Google Search ads
When you think of the best advertising platforms out there, Google Search is an easy top pick. Google Search ads have become synonymous with paid advertising, thanks to their 3.5 billion Google searches per day.
A few other benefits to consider include:
High likelihood of reaching your target audience. It goes without saying that Google Search has the broadest reach of any search engine, which is reason enough to consider it as part of your paid ad strategy.

Targets users based on stage in the buying process. If you're bidding on a broader search term, for example, "hair products," you can expect to draw in users who are just exploring what's out there on the market, maybe not yet ready to make a purchase. If, however, you change that to a long-tail keyword, like "best hair spray for curly hair" or "best pomade for men's hair," you're more likely to target users more likely to purchase because they know exactly what type of product they want.

They work regardless of budget. You can set a daily maximum budget for your business and also a maximum budget based on keywords. If you've used Google Search ads in the past, you'll know that some keywords will require a $1 bid while others will cost hundreds, or even thousands, of dollars. With this in mind, Google Search ads give you the flexibility to work within any budget.

Get new leads far quicker than trying to rank using SEO alone. SEO, of course, is an integral part of any modern marketing strategy, but when you need to boost revenue more immediately, Google Search ads are a great option.

Target by user intent. People come to Google looking for answers, and your website can help answer some of those questions. So instead of interrupting social media users with an ad, you can serve users with the answer to their question.
Google Shopping ads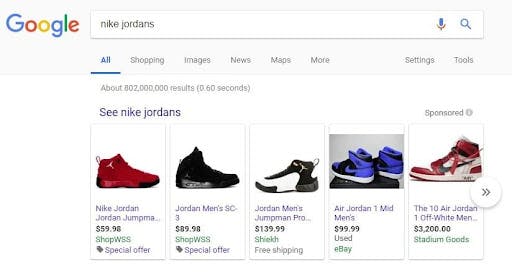 Appear at the top of the Google Search results. Google Search organizes results in this format:
1. Google Shopping ads
2. Google Search ads
3. Organic results
Of course, some searches won't yield Google Shopping results, but if you're selling a product like t-shirts, you can bet that a row of t-shirts will appear when someone uses a search term like "fitted tees."
Great for showcasing your product. Google Search ads require that you write an ad, where Google Shopping ads let you show off your product with an image, product name and price.

Helps buyers find what they want. If we stick to the example of t-shirts, you're going to help a user find your brand of t-shirts rather than interrupting them with an ad while they're on YouTube or Facebook. 
Amazon ads
Amazon's rise to market domination has made it almost synonymous with e-commerce, and there are numbers to back that up. With 310M active Amazon users worldwide, you're missing out if you're not advertising on Amazon! 
Powerful point-of-purchase for online businesses. If you're selling a D2C product, Amazon ads should likely be a part of your paid ad strategy. Their wide reach and flexibility with ad types is further bolstered by the fact that they have 100M Prime members known for spending more on Amazon.

Excellent ad positioning where users go to purchase. When a user enters a search term on Amazon, the top few results will be Amazon ads, marked with "sponsored" or "ad". Beyond search results, when you visit a product page, you'll often see an ad to the right of the main product. If you keep scrolling down that same page, you'll see a row of sponsored ads towards the bottom of the page. This gives you excellent targeting ability, as you can advertise your products on the product pages of complementary or competitive products. 

Premium ads display across Amazon and beyond. Their premium ads can be thought of as display ads — they're often top or side banners that can appear both within Amazon or on external websites. 
TikTok ads
Part of the beauty of Google ads and Amazon ads is their broad reach and ability to target different audiences based on user intent, but what about more targeted platforms like TikTok?
Large base of young buyers. With over 689M monthly active users — 600M of which are active daily — 62% of TikTok's users are between the ages of 10 and 29, making it the platform of choice if you're looking to target Gen Z. 

Flexible ad types. Ads can appear as soon as a user opens the app, while the user scrolls through their feed, or you can through video ads that encourage the use of your branded hashtag.

Branded effects. Custom filters are a fun way to leverage AI and can include your relevant brand information.

Integrates with Shopify for in-app purchases. With a TikTok business account, you can show a video to their viewers and push to in-app purchases.
With all of these benefits, there's got to be a downside, right? One of the benefits of Google and Amazon ads is that you're not interrupting the user, but with TikTok (and any social media) ads, you're doing just that. Beyond this, TikTok is not for those with a small budget. TikTok ads can run you $50-$100K, and running a promoted hashtag challenge could run you upwards of $150K. On top of this, TikTok ads are in video format, so you'll incur additional costs in producing your videos.
If you're currently scaling your business, these costs may make TikTok seem like an impossible contender for your advertising efforts, but there are other solutions. Partnering with a relevant TikTok influencer is often a far cheaper way to promote your brand on TikTok while still grabbing the coveted attention of Gen Z. 
Facebook ads

Facebook and Instagram ads are undoubtedly the most popular option for paid social advertising, and there's a good reason for that! While Facebook and Instagram ads are two different things, they're both managed through Facebook's Ad Manager, so it's easy to run campaigns across both platforms, which collectively boast 3.7B monthly active users! 
Large audience of Millennials and Boomers. As you may know, Facebook's audience skews slightly older and the platform overall has a large audience, at 2B monthly active users. Just over 26% of Facebook users are 25-34, and the audience skews slightly more male at 56% of users.

Target based on buyer journey stage. Facebook ads are broken down into 3 categories: awareness, consideration, and conversion. These categories mimic the flow of the standard customer journey or sales funnel. Awareness ads are to promote your company in general so customers become familiar with your brand and what you sell. Consideration ads reinforce the value proposition of your product and encourage customers to more seriously consider using it. Finally, conversion ads get a user to purchase your product and sit at the bottom of the sales funnel.
Instagram ads
Ideal for targeting Millennial or Gen Z audiences. Instagram's audience skews slightly younger and has 1B monthly active users. On Instagram, just over 33% of users are 25-34, with 57% female users. Instagram ads are a smart choice for targeting Millennials and even Gen Z, with 25% of U.S. teens citing Instagram as their favorite social media platform.
Wide variety of ad formats you can choose from. Instagram ads can be run on stories, IGTV, or on the main feed, with many customizations available, from photo to video to carousel ads. This Hootsuite Guide gives you an in-depth look at all the different ad formats available to you. 

Pinterest ads
Business owners sometimes overlook Pinterest, but it offers its own unique value:
A hyper-targeted audience. With over 416M monthly active users, Pinterest captures a more targeted demographic than the average social media platform. 71% of Pinterest users are women, with 35% of users between 35-49 years old and 54% between 18-29 years old.

Users browse with intent. Because Pinterest is a discovery platform, the intent is already there, similar to advertising on Google or Amazon. Instead of interrupting users, you're helping them get to a solution with your ad. 

Flexible ad types. There are five main types of Pinterest ads, all of which appear alongside the regular pins a user would see in-app or on-site. Standard pins, carousel ads, and video ads appear with a small, "sponsored by" tag. Shopping ads allow you to upload rich product information into a pin, including the product name and price. And app download ads are ads that include a CTA to download your company's app. 
Microsoft advertising (formally Bing ads)
Bing, the second largest search engine, is often overlooked in favor of Google's PPC engine. Now known as Microsoft Advertising, and sometimes referred to as Microsoft Bing ads, the most significant differentiation is that ads are displayed across the Microsoft Search Network. Bing ads work similarly to those of Google, albeit the reach is smaller in terms of targeting and where you can advertise. Like Google Ads, you provide the creative and set your daily budget before launching your campaigns.
Multiple ad types. Ad options include the basic text, search or multimedia ads, product ads similar to Google's and audience ads on the Microsoft Audience Network.

Basic targeting. Within Bing's network, you can target based on location, when your ads display, age, gender, and keyword.

Often overlooked by your competitors. Undoubtedly, search traffic on Bing pales in comparison to Google, which holds 92% of all internet search traffic. But don't write off Bing ads just yet—you could be missing out on targeting traffic your competitors have missed, and there's likely less competition on the platform, saving you valuable advertising dollars.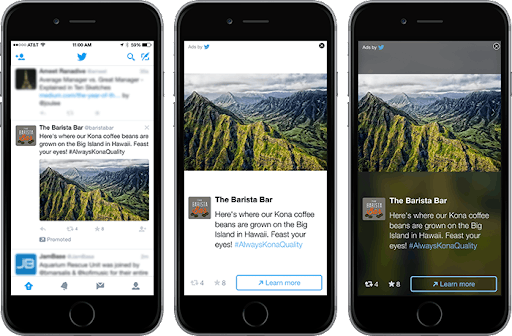 Ideal for sports, news, entertainment brands. Twitter is an excellent platform for targeting specific audiences focused on politics, sports, news, and entertainment. A whopping 77% of its users are from the USA alone, and the most significant number of users is within the 25-34 age group. Twitter also boasts a healthy 166 million daily active users.

Less expensive than other platforms. Another relatively inexpensive option compared to Facebook and Google advertising is advertising on Twitter. Like other advertising platforms, you only pay for user actions on your ads and you get to control your budget. If your audience is full of hardcore Twitter users, it'd be smart to research common community hashtags and put some marketing spend into Twitter ads.

Final thoughts
Whether you're looking to create brand awareness, increase conversions, or just expand your reach, there are endless resources at your disposal. There's an option for every business and budget, from the all-encompassing Google ads to the more targeted social media ads. This article is by no means an exhaustive list of paid advertising platforms, so go forth and find what works for you.
Next stop: endless growth.
Are you ready for Black Friday?
Get $10K to $20M for marketing spend.
GET FUNDED
The Clearco Newsletter
Sign up to get fresh content straight to your inbox!