Black Friday checklist: How to prepare your website for BFCM
Karen Le
October 14, 2021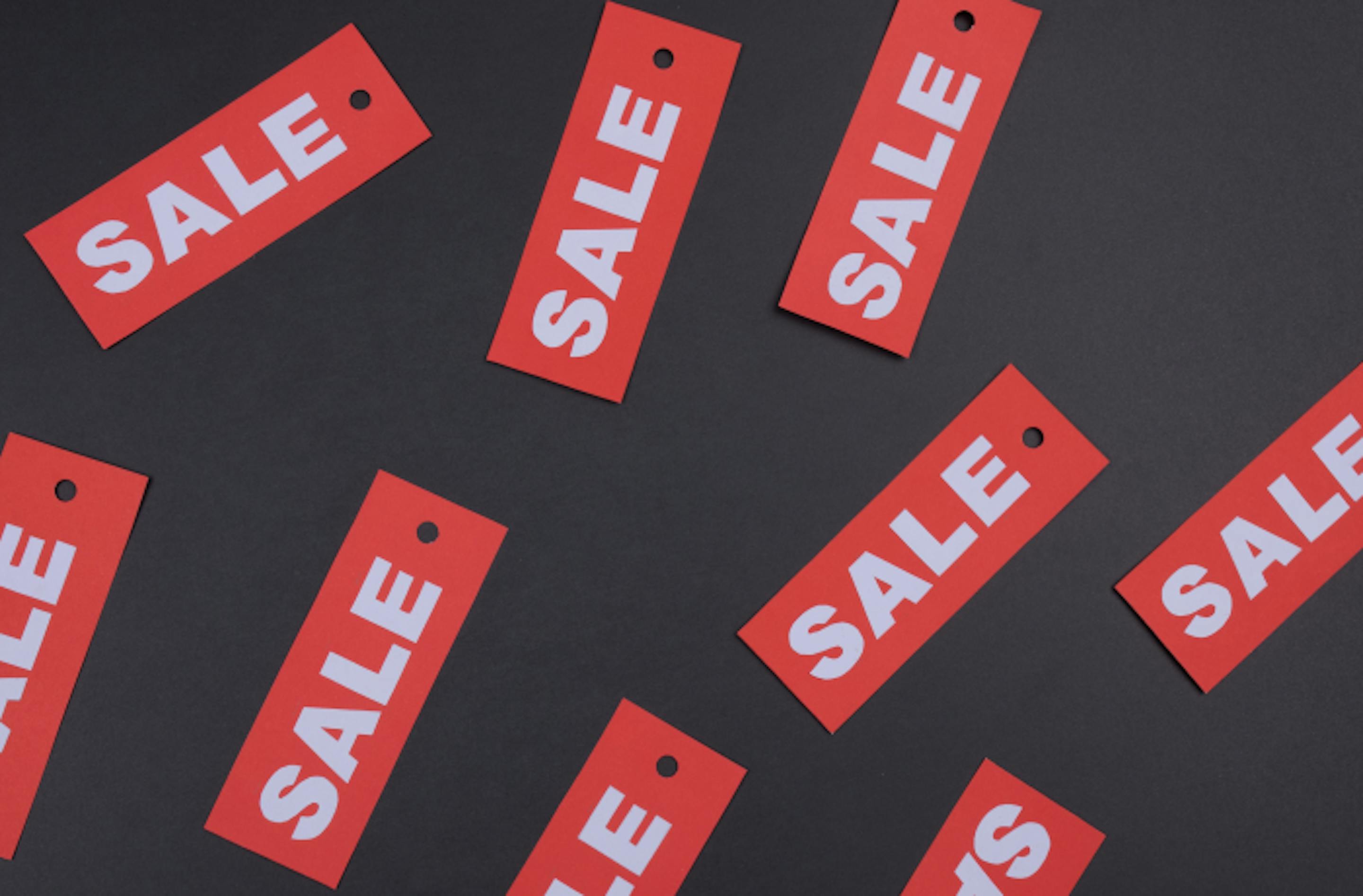 Black Friday/Cyber Monday (BFCM) is an exciting time for e-commerce businesses. For one, consumers are primed to make big purchases and discover the best deals of the season. But unique to last year were the temporary store closures in spring of 2020, which led to a massive surge of retailers entering the e-commerce space. In Canada alone, e-commerce retail sales increased by over 70%, and over $4.2T USD were spent worldwide in e-retail sales during 2020. If nothing more, 2021's shopping trends have shown us that the e-commerce engine isn't slowing down any time soon. 
If 2021 serves as an indicator, there's good reason to believe consumers will start their holiday shopping earlier this year, with the season extending all the way to the end of the year. Last year, retailers started offering deals as early as the beginning of November. Why? Because consumers like to plan in advance...and so should you.
Your Black Friday/Cyber Monday website preparation checklist
To help prepare for what will likely be your busiest season of the year, we've developed a Black Friday checklist that covers some tried-and-true best practices. Hit all of these, and you're well on your way to a successful BFCM campaign!
Create an irresistible offer 
One of your biggest challenges during Black Friday is setting yourself apart from the crowd. With so many promotions flooding consumers, every year becomes more and more a matter of holding customers' attention long enough for them to make a purchase. For that reason, the Black Friday deals you offer will play a huge role in the decision-making process. You need to show consumers that your brand can offer a special shopping experience superior to your competitors'. 
When deciding on the deal or promotion central to your Black Friday campaign, consider the following:
What value will you be offering customers through this deal?
How will the promotion serve returning customers?
How will you tailor the offer to new customers?
Test your server capacity
The last thing you need is a website crash in the midst of BFCM. Make sure your website can handle increased traffic with a load testing tool like k6, which fakes a traffic surge to analyze how well your site performs. You should also check your website hosting plan and see how it performs; the slower the host server, the slower your website, meaning a worse shopping experience. 
Optimize your website for mobile
What's the point in having the coolest product on the market if your website isn't user- and mobile-friendly enough to provide a positive shopping experience? You'll want to consider the UX of your site carefully, including how easy it is to search for information and navigate on a mobile device.  
To optimize your site for a seamless customer experience, consider:
Minimizing pop-ups
Ensuring your buttons are tap-friendly
Displaying clear CTAs
Employing responsive design
Check your website loading speed
Vroom, vroom.
Google reports that bounce rate probability increases as load time increases. In short, how quickly your website loads will dictate whether a user stays or leaves. Resources like Google's PageSpeed Insights or GTmetrix can analyze your site's content and generate specific suggestions to improve its speed, if needed.
Take stock of your inventory
Understanding your inventory prior to the expected surge in demand will help you avoid the oh-so-disastrous stockouts. This means implementing an inventory management system well in advance of BFCM. On top of that, we recommend creating a landing page in which customers can input their emails in exchange for advance notification of your Black Friday offers. You'll be able to communicate with your most engaged customers, see who plans on taking advantage of your BFCM sales, and forecast how much inventory will be needed. 
Plan for design and copy
In order to pull off your BFCM campaign, you'll need a number of creative elements. As you prepare for Black Friday, identify which channels you'll be hosting content, then devise a strategy to implement it. On top of paid ads, you'll most likely need an updated website banned, tantalizing product photography, and social media assets, to name a few.
Build suspense by teasing your upcoming discounts
In the weeks leading up to Black Friday, you should be sharing sneak peeks on your website of what's in store for BFCM. Consider adding a countdown on a Black Friday landing page to create some buzz about your BFCM discounts, or building a page on-site to tease the offers you'll have.
An additional tactic is to run a social media campaign that leads users to your business' BFCM landing page. But if you're going to run a campaign—do it right! Make sure you're posting teasers well ahead of Black Friday to drum up as much excitement as possible. 
Craft an email marketing and SMS strategy 
Email and SMS marketing are both great ways to communicate with your customers. They allow you to own your data and connect directly with your customers, while providing highly personalized content. This can be especially true with SMS marketing, in which the average open rates are 98% and above.
So, how do you build your subscriber base? Make sure your website has a CTA directing people to subscribe to your newsletter or to create an account. This CTA can be featured as a pop-up, in a top or bottom navigation bar, or on a designated section on a page. If you already have a list of email subscribers, we recommend using it to fuel subscriber growth for SMS.
One easy win is to set up an automated abandoned cart email, that would be triggered in the event that a customer abandons a cart. The shopper receives an email or text message reminding them to complete their purchase, which can help capture some of those near-conversions. With abandoned cart campaigns—and email and SMS campaigns in general—make sure to track conversions to ensure they are driving results. You'll be able to better understand how each campaign is working, and how to best iterate on them in the future. 
Prepare for ad spend
These days, the digital advertising opportunities available to founders are virtually endless. Television and radio ads have shifted to pre-rolled ads shown before Youtube videos, on your Facebook newsfeed, and in-between podcast episodes, among others. Since cost per thousand impressions (CPM) on an advertising platform like Facebook are more affordable in the month leading up to BFCM, you'll want to get your bids in early. Ergo, you'll need to increase your budget for ad spend.
What are your customers' interests and shopping behaviours?
What kinds of products are they looking for?
How do they consume content, and on which platforms?
How will your content guide them to take action?
One extremely lucrative channel that you should leverage is Google Shopping ads. It doesn't matter the industry—you're missing out if you're not including Google Ads as part of your BFCM strategy. Just make sure to highlight your product's—and your overall brand's—unique differentiators to make sure your ads stand out amongst the competition. 
Boost your SEO ranking
SEO (search engine optimization) is an effective way to put your website in front of consumers who are already looking for Black Friday deals. Be sure to incorporate Black Friday-related keywords in your page titles, URLs, and alt-text to boost your SEO ranking on search engines. Make sure your product-focused keywords include BFCM verbiage to organically help rank your products on the search engine. By working on SEO, you can lead new customers to your website and make it easier for returning customers to find their way back. 
Simplify your navigation
How easy is it for your customers to find their desired product on your website? Is it an easy A-to-B navigation or do they need to go through a maze to find what they're looking for? Simplify the purchasing journey by gathering all your Black Friday promotions on one page with a collection of your promotional items. Remember to feature cohesive copy and imagery that will bring your campaign to life, and be sure to avoid cluttering the page to the point that your customers are overwhelmed by what you're offering. In this case, less is definitely more. 
Keep your customers supported
During BFCM, odds are you'll experience an increase in customer inquiries. One way to manage this is by adding a live chat function on your website or a customer service help desk like Gorgias. Chatbots and centralized help desks are a great way to provide customer service and automation in one service. They can help eliminate customer frustration and increase satisfaction, ultimately leaving shoppers with a positive impression of your brand. 
Build trust through a SSL certificate 
Shoppers in today's age worry frequently about whether their data is secure when they complete a purchase online. Keep your customers at ease by making sure your Secure Sockets Layer (SSL) certificate is easily discoverable across your site. Consider featuring it in your global footer so that it shows across the home and product pages. 
It's go time
Now that we've run you through the checklist, it's time to hit the ground running! We've included a condensed version of this list so you can track your progress as you get your website ready for BFCM. Next stop: exponential growth.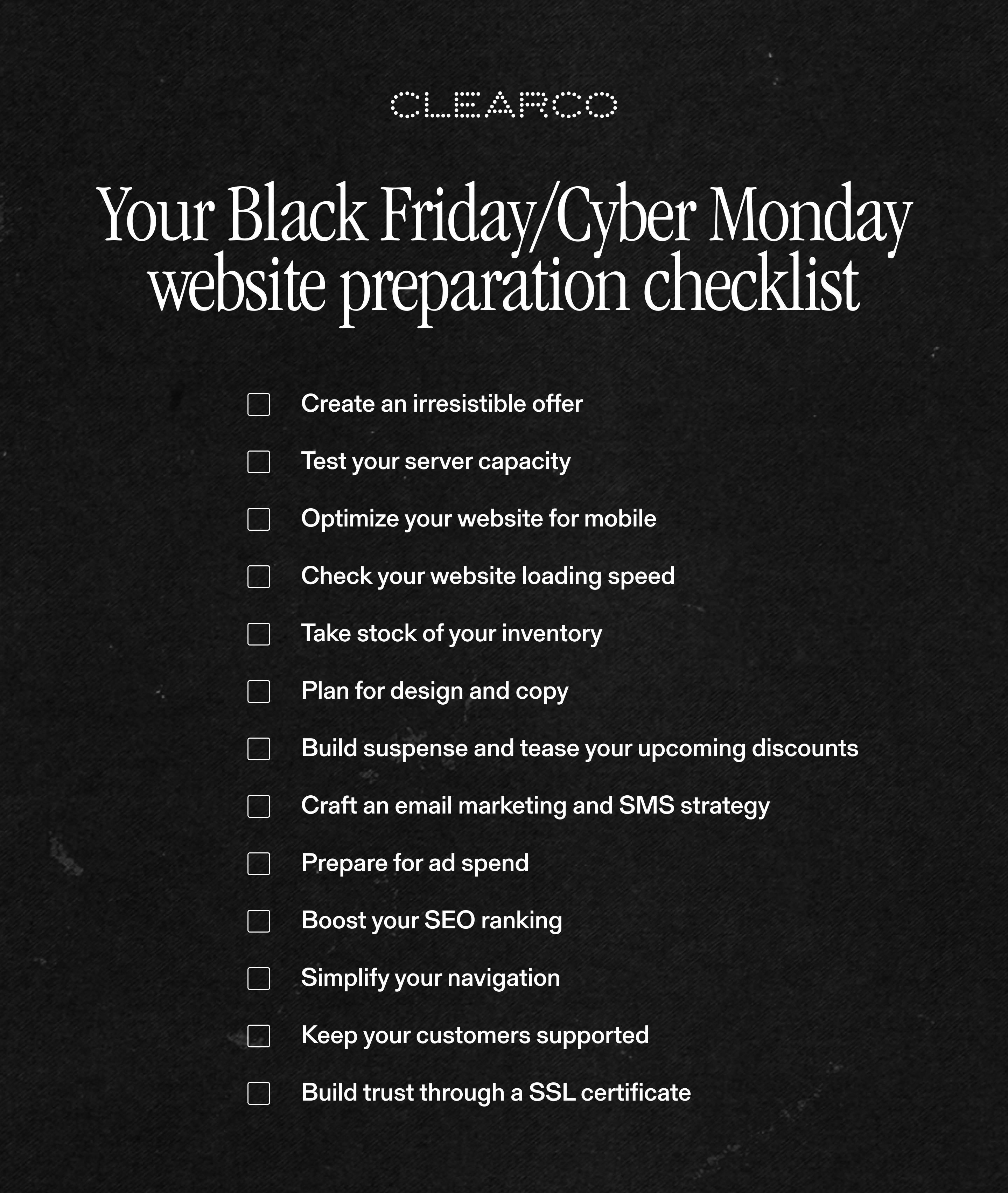 Thinking about taking equity-free funding for your business?
See how much you qualify for with no commitment.
GET FUNDED TODAY
The Clearco Newsletter
Sign up to get fresh content straight to your inbox!