Why is Black business funding still an issue?
Karen Le
October 25, 2021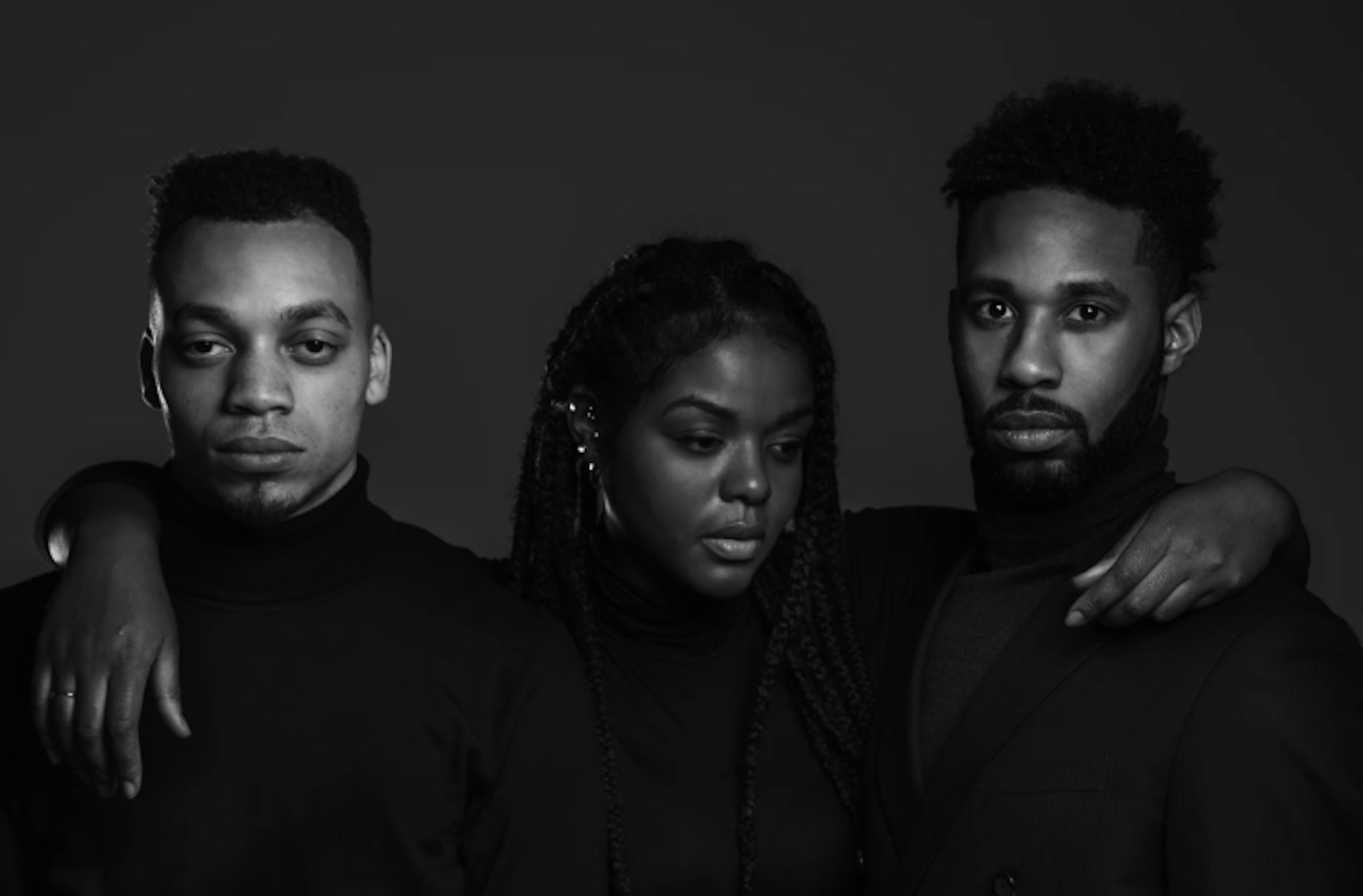 It takes a village to help businesses grow. Imagine all the businesses that could grow, but due to lack of support, decided to give up based on lack of knowledge.
There are a few big problems in the business funding world, and one of the most prevalent lies is funding for Black-owned businesses. While the past few years have seen the rise of new methods of e-commerce funding, there remains a gap in supporting Black-owned businesses with foundational skills and resources to help build successful businesses.
There has been a rise in entrepreneurship during COVID-19. According to the Census Bureaufootnote 1, business registrations increased by 95% during July 2020 in comparison to the year prior. Entrepreneurship is an opportunity to promote economic growth, wealth accumulation, and job creation, particularly in minority communities.
Why does Black business funding remain a problem today?
Business funding remains a problem for Black-owned businesses in the entrepreneurial space.
Major VC firms are risk-aversefootnote 2 and look for existing patterns of success when making funding decisions. Less than 9%footnote 3 of minority-owned businesses pitch to angel investors, and only 15%footnote 4 of these businesses successfully translate a pitch into actual dollars. Simply put, Black-owned businesses don't get a chance to pitch their ideas.
In addition, many Black business owners are discouraged from applying for loans through traditional financial institutions, such as banks, venture capital firms, and angel investors.
According to a report released by the Federal Reserve in 2020footnote 5, 80.2% of white business owners receive at least a percentage of the funding they request from a bank compared to 66.4% of BIPOC (Black, Indigenous, people of colour). When BIPOC-owned businesses receive funding, it tends to average $30,000 less than comparable white-owned businesses. In turn, the cycle continues where Black-owned businesses feel discouraged from receiving some sort of external funding. 37.9%<footnote 6 of Black entrepreneurs don't apply for loans due to the belief they would get turned down, while only 12.7% of white-owned businesses feel the same way.

According to the Canadian Black Chamber of Commerce (CBCC) reportfootnote 7, 5 solutions are presented to close the funding gap: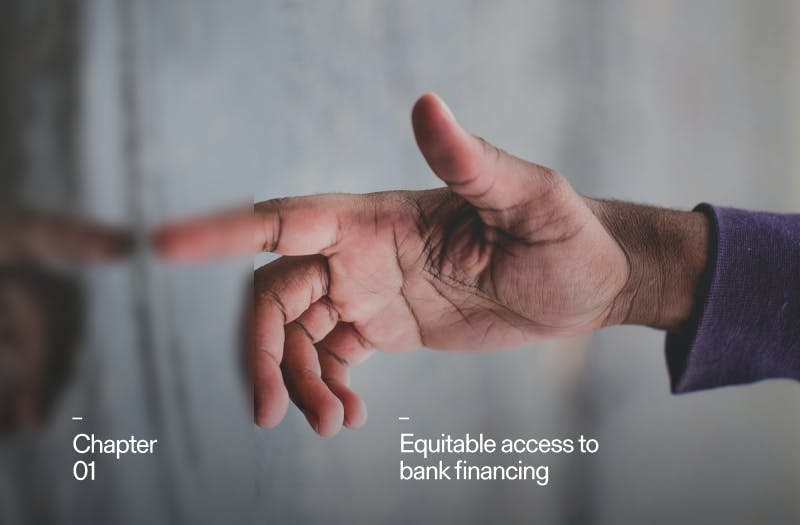 Equitable access to bank financing
The report found that 71% of Black business owners surveyed chose to bootstrap their business instead of borrowing money from a bank. The respondents felt they would be denied funding for their businesses, which led them to use personal savings, funding from their family and friends, or search for grant money instead.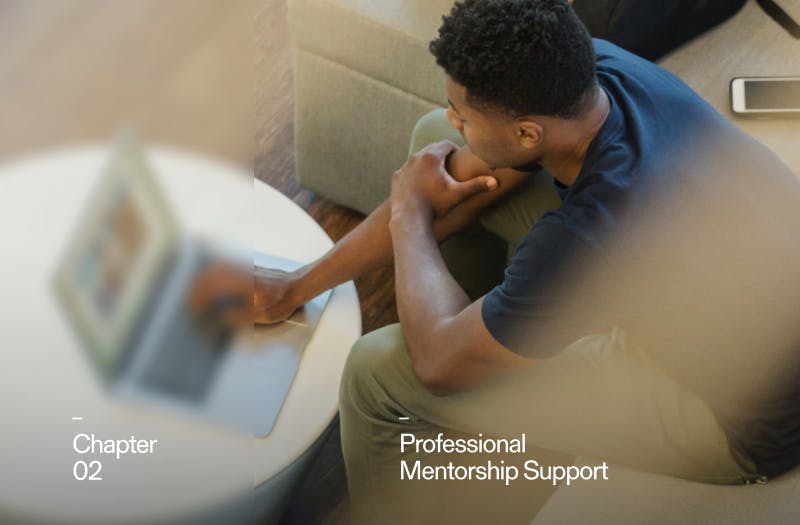 Photo credit: Professional Mentorhsip Support
Professional Mentorship Support
Mentorship can foster business development and pinpoint areas for improvement, as well as opportunities to grow. Participants mentioned a lack of mentorship networks available within their communities and regions. Several entrepreneurs mentioned they used Google search as their primary way of getting their questions answered. 
In the Atlantic provinces of Canada, exempting Nova Scotia, the total Black population makes up 10,170 residents. Within these provinces, participants expressed difficulties in finding mentorship. A founder in New Brunswick noted the lack of diverse mentors available in their region. They believed that they would need to travel as far as the US to find mentorship from another Black entrepreneur. As a result, the respondent was doubtful when it came to pricing their products, taxation, and making other business-related decisions. 
Additionally, founders who don't have permanent residency aren't considered Canadian citizens and are excluded from local community mentorship programs.
Clearco, on the other hand, is accessible to all entrepreneurs, no matter where you are located. Support is provided through guidance and mentorship, business funding, and networking opportunities with like-minded individuals.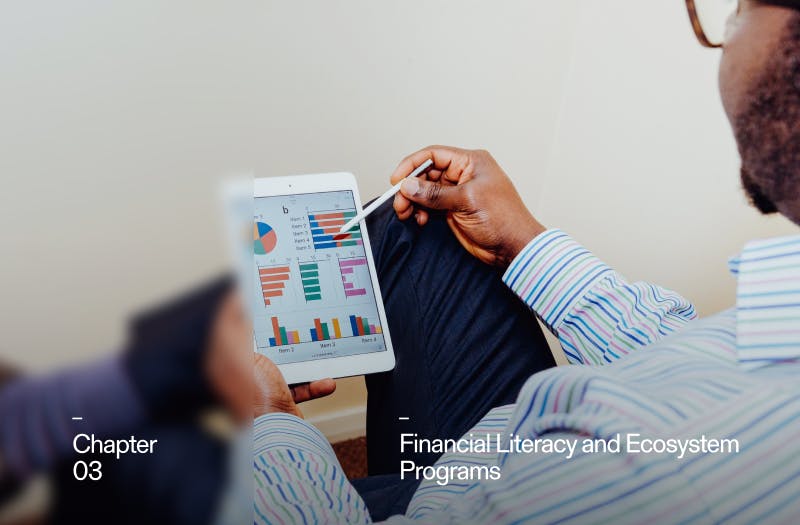 Photo credit: Financial Literacy and Ecosystem programs
Financial Literacy and Ecosystem Programs
There is a financial literacy gap between entrepreneurs and available support in funding and programming. Financial literacy requires special attention, as the needs of the Black community are more complex than most. 
There is a large percentage of the Black community who weren't born in Canada. A participant born in Africa mentioned there isn't a credit score or loan program in their country. Instead, education comes from what their family passes down to the children. It can be challenging for entrepreneurs born outside of Canada to secure traditional funding because they don't have a previous credit history.
In addition, there are limited social innovation centers for Black entrepreneurs, where they can build the next generation of high-growth companies. Building communities led by Black and/or diverse experts are integral to helping Black-owned businesses to grow. A sense of community helps entrepreneurs believe they can pursue business ownership and receive support.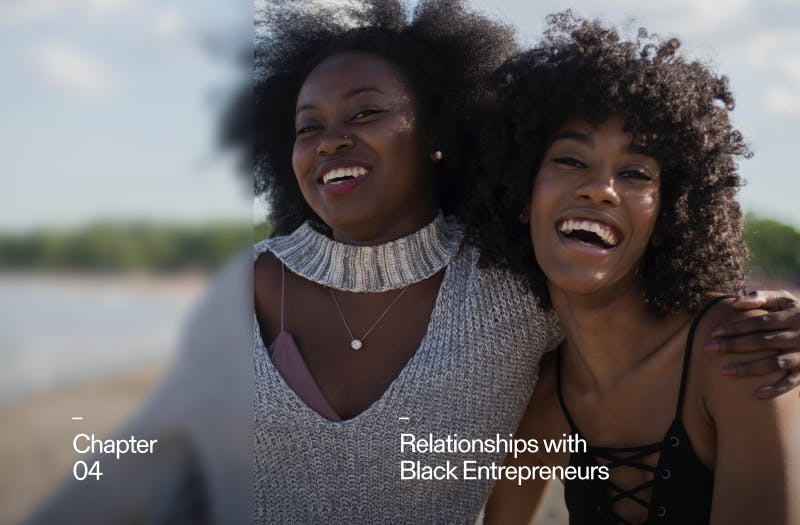 Photo credit: Relationships with Black entrepreneurs
Relationships with Black Entrepreneurs
Institutions need to make a conscious effort to enhance their relationships with Black Entrepreneurs. About 40% of respondents are not familiar with the available programs that provide funding to Canadian entrepreneurs, regardless of race. The members who had heard of these programs weren't comfortable approaching and receiving funding from these institutions due to the requirements of the bank. 
Founders felt it was more of a "who you know" relationship that rewarded entrepreneurs to grow their businesses. This means that the people who run your network are more valuable than product offerings and business metrics.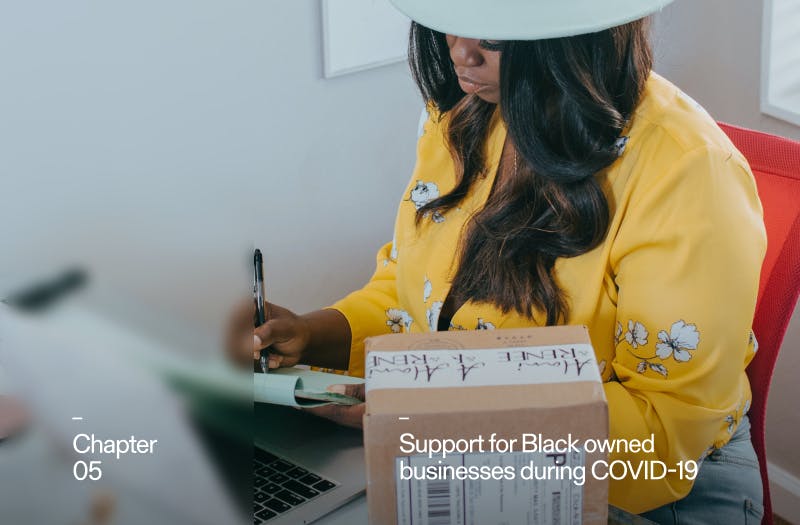 Photo credit: Support for Black owned businesses
Support for Black-owned businesses during COVID-19
There are currently COVID-19 funding programs from the Government of Canada to help businesses cope with the effects of the pandemic, such as the Black Entrepreneurship Loan Fundfootnote 8. For the first phase of the fund, the Government of Canada has invested $33.3M and $130M from the Business Development Bank of Canada (BDC). The second phase of funding includes an investment of $128 million from: the Royal Bank of Canada, BMO Financial Group, Scotiabank, CIBC, the National Bank of Canada, and TD Bank.
There are other COVID-19 related programs created to help support businesses during the pandemic such as the Canada Emergency Business Account (CEBA), and Canada Emergency Wage Subsidy (CEWS), Canada Emergency Rent Subsidy (CERS).
However, CBC reported that Black-led businesses have raised concerns from these government grants. During the application process, there has been a lack of transparency in terms of how and what the experience would entail. Black business owners couldn't access eligibility information or how the loan repayment would look like.
In addition, respondents mentioned how the program doesn't make a clear repayment plan. When applicants tried to contact the organization, there were customer service issues; they either received no response or a delayed one. 
How Clearco can help bridge the gap 
There are many different ways to secure funding to scale your business. Make sure to do your research and make a decision that feels aligned with the needs of your business. Clearco offers alternative funding to founders in all stages of their business journey, from $10K to $10M.
Through our data-driven approach, the bias is taken out of decision-making. This has allowed us to fund over 5,500 businesses, including many businesses led by underrepresented groups.
We are passionate about empowering founders to maintain 100% control of the businesses they worked so hard to create. This includes equity-free capital funding, without the need for credit checks or interest fees.
References
https://www.census.gov/econ/bfs/data.html

https://www.fastcompany.com/90531094/for-black-entrepreneurs-the-racial-wealth-gap-makes-finding-funding-nearly-impossible

https://www.fastcompany.com/90531094/for-black-entrepreneurs-the-racial-wealth-gap-makes-finding-funding-nearly-impossible

https://www.forbes.com/sites/natalierobehmed/2013/10/16/there-are-few-minority-entrepreneurs-and-they-rarely-get-funding/?sh=21a9bbeb927b

https://www.forbes.com/sites/natalierobehmed/2013/10/16/there-are-few-minority-entrepreneurs-and-they-rarely-get-funding/?sh=21a9bbeb927b

https://www.nerdwallet.com/article/small-business/racial-funding-gap

https://www.blackchamber.ca/wp-content/uploads/2021/03/Building-Black-Businesses-in-Canada-_Feb-27-2021.pdf

https://www.ic.gc.ca/eic/site/150.nsf/eng/home
Free Funding Calculator
See how much your online business is eligible for
SEE AMOUNT
The Clearco Newsletter
Sign up to get fresh content straight to your inbox!